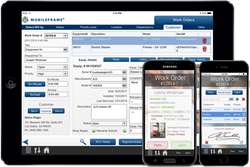 MobileFrame's proven methods of development mangement and integration allow apps to be created or improved as business processes change.
Droitwich Spa, Worcestershire (PRWEB UK) 3 September 2015
This mobile enterprise application platform (MEAP) includes all the tools for a successful fully-integrated mobile deployment such as; application development, robust synchronisation device and data management,GPS tracking, project admin tools, security an integration wizard, scalable server options and on or off premise hosting. The fully native MobileFrame client allows users to work in areas with poor network coverage. Learn More
Andrew Cahill, MobileWorxs MD, said "In a market steadily moving focus from the traditional Windows Mobile to iOS and Android, this new release of MobileFrame provides everything an enterprise needs to ensure that their mobility operations run smoothly and deliver high returns on investment."
Powered by MobileFrame's patented, code- free "write once, deploy anywhere" mobile ERP platform enterprises can design, build, configure, test and manage multiple custom apps across the enterprise all from a single platform with no coding required.
The scope for apps to automate field based processes is vast both on and off premise and commonly include field service, delivery, merchandising, inspections, van sales, vehicle inspection, and inventory management.
Book a meeting or webinar to discuss your project.
About MobileWorxs
MobileWorxs believe in thinking differently about the productivity of mobile workers. We do this by helping you come up with an approach to enterprise mobility solutions that is well thought through simple to use and has a positive impact on your business.