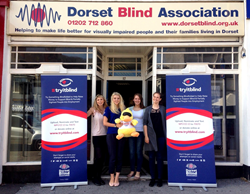 (PRWEB UK) 1 September 2015
Founded during the aftermath of World War One, to help those who had lost their sight during the devastating period, the Dorset Blind Association provides services to help visually impaired people make the most of their lives.
Based in Poole, Dorset Blind Association works directly with the community, filling the increasingly large gap left by the reduction in local health and social care services within the county.
As well as visiting vulnerable people within their homes, Dorset Blind Association also offer an array of services including activities and sports, social clubs, community support workers, buddies and support at Bournemouth Hospital Eye Unit.
This month has seen Dorset Blind Association receive a donation of new, custom banners from the Poole-based exhibition stand specialists, Quadrant2Design. The banners, which depict the #tryitblind, the charity's fundraising campaign that encourages people to post blindfolded activities to social media and in turn nominate others to do the same, to help raise money to support blind and partially sighted people into employment, will be used at locations across the county, and at different events, to raise both awareness and funds.
To discover more about Dorset Blind Association, visit http://www.dorsetblind.org.uk, tweet @DorsetBlind, and like http://www.facebook.com/Dorset Blind.
For more information about Quadrant2Design, contact designteam(at)quadrant2design(dot)com.