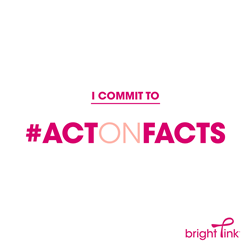 Chicago, IL (PRWEB) September 02, 2015
This Fall, as Ovarian Cancer Awareness Month (OCAM) kicks off ahead of Breast Cancer Awareness Month (BCAM), Bright Pink, a national non-profit focused on the prevention and early detection of breast and ovarian cancer in young women, will launch Act On Facts, a campaign to educate women to be breast and ovarian self-aware and celebrate positive, risk reducing actions.
From September 1st through October 31st, celebrities, bloggers, influencers, and young women alike will share photos of how they are living proactively and putting Awareness in Action™ with the hashtag #ActOnFacts, along with an invitation to their followers to visit BrightPink.org/Act to commit to healthy actions themselves. There they will be presented with actions they can take to navigate their personal risk for breast and ovarian cancer, equipped with tools for conversations with their families and doctors, learn their normal, become more breast and ovarian self-aware and, through these things, reduce their risk for these diseases. The campaign will run during a time when women are bombarded with information, facts, and statistics about ovarian and breast cancer, and are seeking ways to translate that information in a way that impacts their everyday lives.
"Ovarian and Breast Cancer Awareness Months provide a perfect opportunity to talk and learn about both of these diseases, and year after year through these conversations, women are reminded of the prevalence and statistics surrounding both. They aren't always, however, presented with tangible actions they can take now to understand or reduce their risk and practice early detection," says Bright Pink Founder, Lindsey Avner. "Act on Facts is going to take information about breast and ovarian cancer one step further, and empower thousands of women to put awareness into action—igniting change and saving lives."
Bright Pink believes that facts are important, like the fact that one in eight women will develop breast cancer in her lifetime. Or that while ovarian cancer is more rare, (one in 67 women will develop in a lifetime); it is far more deadly, as only 1/3 of women diagnosed will survive. Bright Pink's ethos centers around one very important fact, however: when detected early, the five-year survival rate for breast and ovarian cancer is greater than 92%. This is why they find it essential for women to take action on this fact, and practice early detection and risk reduction. They believe every woman has the power to be proactive in this way, and want to provide them the tools to do so.
To take part in the #ActOnFacts campaign, participants will simply visit BrightPink.org/Act to learn about risk-reducing actions and demonstrate their commitment by sharing a photo of their favorite healthy action with an inspiring caption, "This Fall, don't just learn the odds. Change them. #ActOnFacts."
For more information, visit BrightPink.org/Act or contact:
Emily Burkle
Elle Communications (for Bright Pink)
emily(at)ellecomm.com
ABOUT BRIGHT PINK
Bright Pink® is a national non-profit focused on the prevention and early detection of breast and ovarian cancer in young women. The organization's mission is to save women's lives from breast and ovarian cancer by empowering them to live proactively at a young age.
Bright Pink's innovative programs educate and equip young women to Assess Your Risk for breast and ovarian cancer, reduce your risk, and detect these diseases at early, non life-threatening stages. Founded by Lindsay Avner in 2007, Bright Pink strives to reach the 52 million women in the US between the ages of 18-45 with this life-saving education. Put Awareness In Action™ at BrightPink.org.