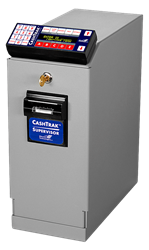 The CashTrak Supervisor enables cash payment processing to be up to the level of their electronic payment counterparts.
Woodbury Heights, NJ (PRWEB) September 01, 2015
Today many large retailers have adopted smart safes to dramatically cut down on the costs of handling cash payments from customers. These products offer many time and money saving benefits, while providing an accurate count of all bills collected, ensuring those bills are legitimate, and making lengthy reconciliation and bank deposit preparation activities obsolete (http://www.smart-safes.com). Studies have shown that by using a smart safe, the occurrences of internal theft are also dramatically reduced (CSP 2014 Cash Management Study). For many users, when a large value note is received, it simply goes directly into the smart safe. Once money goes in it cannot be removed unless accessed by a manager or armored car company.
Smart safes and other electronic cash management equipment can cost retailers several thousand dollars in upfront investment. Armored car companies act as the complete solution providers by offering equipment leasing options, installation, on-site training, pick-up and service options, as well as cash management data tools through online portals. These products, while invaluable for larger merchants, do not address the needs of more modest sized retailers not using armored car services.
The CashTrak Supervisor™ cash management system, announced this month, has been engineered for businesses that process on the order of $50,000 in cash per month and desire to manage the cash handling process themselves rather than hiring a full service armored car company. "The CashTrak Supervisor™ is the perfect companion to your cash drawer and is equipped with similar features of full smart safe solutions making it much easier to collect, validate and manage cash payments" according to Jason Blau, CEO of CashUp Solutions, LLC. "We have found that business owners managing several retail locations spend over 10 hours per week coordinating the activities related to cash processing – this is time that could be better spent focusing on running or growing your business."
The CashTrak Supervisor™ represents a new application of smart safe technology for walk-to-bank customers. This solution gives banks a powerful tool to bring cash payment processing up to the level of sophistication on par with their electronic payment counterparts.
Ellenby Technologies, Inc. (http://www.ellenbytech.com) is a smart safe design and manufacturing company located in Woodbury Heights, NJ. They have been pioneers in the smart safe business since 1995 with several thousand smart safe units deployed around the United States.
CashUp Solutions, LLC is a cash management solutions company focused on partnering with retail banks to provide simple and affordable technology that will serve merchant customers seeking to optimize their own cash handling operations. The CashTrak Supervisor™ reduces the burden of cash acceptance by making cash visible from collection to bank deposit all with one device. Headquartered in the Philadelphia suburbs, CashUp is committed to helping banks make cash high-tech. To learn more, please visit: http://www.cashupsolutions.com.