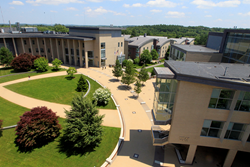 "EdHealth provides value to our employees but also to our students and their parents who want to see every possible penny go toward improving the quality or decreasing the cost of their education."
Needham, Mass. (PRWEB) September 03, 2015
An innovative health insurance program started by colleges and universities in Massachusetts is paying off with lower renewal rates and significant savings for member institutions. Since the initiative began two years ago, the colleges as a group have saved at least $10 million from what they were paying before and limited average insurance premium increases to less than one percent, compared with seven to nine percent increases nationally.
Reflecting EdHealth's success and potential for growth, Tracy Hassett, previously the vice president of human resources at Worcester Polytechnic Institute, has been recruited as the organization's first employee. She will serve as president and will start today.
The effort started in mid-2009 when 22 private colleges and universities in the Commonwealth joined forces to create one of the country's first group health insurance programs of its kind, called Educators Health LLC (EdHealth). EdHealth officially launched in July 2013 and provides a self-insured program for each member, backed by a stop-loss program to cover unusually high claims.
EdHealth currently has 11 member institutions. Salve Regina, the first Rhode Island member, is scheduled to join next year, along with two as yet unannounced institutions. More colleges and universities are expected to join as the model proves successful and based on their best enrollment dates. As more enroll, savings are expected to increase. The current participants are:
Berklee College of Music
Boston College
Brandeis University
Emerson College
Lasell College
Olin College of Engineering
Regis College
Wellesley College
Wentworth Institute of Technology
Wheaton College
Worcester Polytechnic Institute
By assuming the risk of large claims and reducing unnecessary overhead costs through economies of scale, the participants expected to save four to six percent of their current cost. In the first 24 months, all participants have realized savings compared to a fully insured product and, in many cases the savings exceeded expectations, resulting in no or small premium increases for their employees. The 11 participating institutions cover the medical insurance costs of 8,500 employees totaling $135 million.
"In higher education, employees are our primary asset and next to salaries, health care takes the largest and a growing bite out of our budget," said Stephen Hannabury, Olin College's executive vice president and EdHealth chairman. "EdHealth provides value to our employees but also to our students and their parents who want to see every possible penny go toward improving the quality or decreasing the cost of their education."
Harvard Pilgrim Health Care and Tufts Health Plan were selected to provide network and claims processing services through an extensive bidding exercise based on a variety of criteria, including broad doctor and hospital provider networks and claims processing. As a result, the conversion to a self-insured product has been seamless for employees.
"With more than 100 colleges and universities, Massachusetts is a nationally-recognized hub of higher education and innovation," said Hassett. "Every institution in this state – and in higher education nationally – understands the urgency to help reduce institutional costs so that we can pass those savings along to our students. But that's only half the story; our colleges and universities employ thousands of people, and healthcare costs, which have a tremendous impact on operating costs, were skyrocketing. We knew that our only chance to curb those costs and better help our staff and faculty was to join forces and effect change."
A side benefit of the self-insurance plan is that member institutions have much more information about the health issues of their employees, and can design health and wellbeing programs accordingly. For example, many EdHealth members now offer the "Healthy You" program, which provides a variety of resources for improving employee health, from exercise classes and stress reduction activities to disease management programs.
The early work for EdHealth was begun at The Boston Consortium, a collaboration of area colleges and universities around cost saving and quality improvement. EdHealth then became the first effort of CEVoNE (Collaborative Educational Ventures of New England), a group of 25 private schools, colleges and universities in Massachusetts who over the past few years have engaged in a conversation and devoted resources to exploring this innovative group health insurance effort. The Davis Educational Foundation has supported these efforts through grants intended to help create innovative solutions to reduce costs. In total, CEVoNE represents $400 million in health care coverage expense. Additionally, EdHealth was established to serve similar organizations across New England.