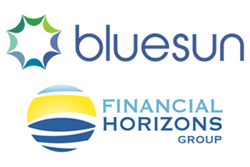 They (Bluesun) have been a solid partner through the ups and downs of the conversion process and we are looking forward to what the future holds."
Toronto, Canada (PRWEB) September 02, 2015
Financial Horizons Group, a leading MGA in Canada, has become the latest company to implement the WealthServ product suite to support the front and back office operations of their business.
Patricia Ziegler, Chief Officer: Operations, Communications & Public Affairs of Financial Horizons Group says, "We are excited that this day is here. The WealthServ Insurance and Investment systems represent the best platform for our business. Consolidating, implementing and transitioning major administrative systems was never going to be an easy process - but we know we made the right decision in our move to Bluesun and the WealthServ platform. They have been a solid partner through the ups and downs of the conversion process and we are looking forward to what the future holds."
Bluesun's WealthServ product line provides web-based insurance and investment management systems that automate workflow and deliver operational efficiency for MGAs, MFDA firms, Carriers and National Accounts.
"Financial Horizons Group ran an extremely thorough review of the marketplace before they made the move to WealthServ. Their growth is well documented and they needed an enterprise class partner," says Simon Tomlinson, CEO of Bluesun. "By the time the conversion is finished, we'll have Financial Horizons Group running on one platform and able to operate best practices across the group. We couldn't be more excited to have one of the largest MGAs on board as a partner and we look forward to continuing to work with them to steer WealthServ solutions into the future."
David Stewart, Financial Horizons Group Chief Sales Officer adds, "Bluesun is a valued partner to our business, the WealthServ platform will help to ensure that our technology investment continues to evolve our business, support our growth strategy and help us meet the changing expectations of our advisors and consumers."
About Bluesun:
Bluesun is a leading provider of software solutions to the financial services industry with a mission to deliver painless software solutions to its clients. This means easy-to-use, intuitive software with hassle-free installation and responsive, class-leading service. Today, Bluesun handles more than 50% of all Canadian life insurance business in the independent channel. Bluesun was founded in 2001 and is located in Burlington, Ontario. For more information, visit http://www.bluesun.ca.
About Financial Horizons:
Financial Horizons Inc. is a large Managing General Agency (MGA) providing life company products and services to over 9,000 independent advisors Canada wide. Financial Horizons Group provides advisors with a mix of resources, products, services and value added support, helping them to grow their business. Financial Horizons Group and its staff of professionals have extensive experience in the life insurance industry, and are dedicated to providing accurate and timely quotations to advisors from the industry's leading financial institutions. Financial Horizons Group head office is located in Kitchener, Ontario.