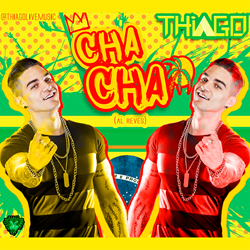 New York, New York (PRWEB) September 02, 2015
Singer and Artist Thiago released "CHA CHA" 3D Lyric video September 1st on VEVO. "CHA CHA" and its Latin inspired Brazilian-fused tunes created major buzz on social media, just like his single "RIO," which released last August 2014. "CHA CHA" is another end of the summer party anthem that will keep your body moving well into Fall. To see this highly anticipated Lyric video visit VEVO https://www.youtube.com/watch?v=QiMstODQT7E. Be sure to add "CHA CHA" to your favorite playlist by visiting SoundCloud today. http://www.soundcloud.com/thiagolivemusic.
Thiago, along with his alter-ego the Dirty Bunny, have been gaining the attention of the media and many corporate brands, intrigued by the catchy storyline that started in "RIO" and made its way to New York. Each new video that comes along adds to Thiago's story. You can expect to see more of the Dirty Bunny in "CHA CHA," as well as in other videos to come - "The Dirty Bunny started out as a visual add-on in the "RIO" music video," says Oscar Amaya, Thiago's manager; "No one expected the Bunny to take off the way it did," — literally and figuratively, as it seems the Dirty Bunny has his own mischievous agenda. Lookout for The Dirty Bunny as he comes to life on social media in the coming months. (#STAYTUNED #THEDIRTYBUNNY).
Thiago's management team, Frontline Entertainment Agency, have begun coordinating Thiago's media tour and started scheduling appearances at various high school, college, and internet radio stations. As for those of you going back to school, catch Thiago's interviews and "meet & greets" at a campus near you. For bookings email us at feaasst(at)frontlineagency(dot)com.
"CHA CHA" is also available now on iTunes, Amazon, Spotify and many other digital outlets. For more information and updates visit Thiago's social media and "Like" Thiago on http://www.facebook.com/thiagolivemusic, and follow him on Twitter and Instagram, @ThiagoLiveMusic.