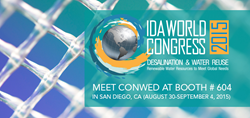 Minneapolis, Minnesota (PRWEB) September 01, 2015
Conwed, the leading plastic netting manufacturer in the world, will be exhibiting its feed spacer portfolio at the IDA World Congress 2015 in San Diego, CA (Booth # 604 - August 30-September 4, 2015). Organized by the International Desalination Association (IDA), the World Congress is the ideal venue to showcase new products and services, introduce company news, and establish important business-building connections in the Desalination and Water Reuse Industry. Organized in a different international location every year, the 2015 exhibition comes to the U.S. and will be the largest and most extensive in World Congress history with over 18,000 square meters of prime space.
Conwed manufactures a full line of feed spacers specifically designed for reverse osmosis applications. Frequently known as scrim, mesh, net, or netting, feed spacers act as one of the layers of wound materials in Reverse Osmosis (RO) filters and provide vital separation between the membranes to achieve superior filter performance. "Our engineering team understands the challenges RO systems face on a daily basis. Addressing membrane damage, pressure drop and biofouling is our priority when developing customized feed spacers for every RO system" said, Ivan Soltero, Strategic Marketing Manager at Conwed. "The IDA World Congress is the ideal venue to make connections in the water desalination community and understand future industry trends and growth opportunities".
Reverse osmosis is a critical part of the world's water supply. It accounts for more than half of the desalination capacity installed worldwide and continues to play an important role in securing water supply for human consumption. The International Water Management Institute, a non-profit scientific research organization that focuses on sustainable water use in developing countries, estimates that by 2025 nearly 1 billion people will lack access to fresh, drinkable water. It's clear that RO will play a major role in alleviating water scarcity, but there will be a strong push for greater efficiency and cutting energy costs while boosting product water output. "Conwed understands the impact water desalination technology has and will have on our global water supply and we have invested considerable resources in developing the next-generation feed spacers that could help the water and filtration industries tackle this enormous water-scarcity challenge", said Soltero.
In recent years, most of new technology and innovation in the filtration and water desalination industry has come from membrane developers; although, Conwed is keen on making progress from a feed spacer developer perspective. "We believe the next wave of innovation will come from the feed spacer", said Soltero.
To learn more about Conwed feed spacers and its Reverse Osmosis Series, visit http://www.conwedplastics.com/ro
About CONWED
Conwed is the leading plastic netting manufacturer in the world. Conwed manufactures extruded, oriented and knitted netting with unique customization capabilities. Headquartered in Minneapolis, Minnesota, Conwed has five manufacturing locations on two continents and a global distribution network.