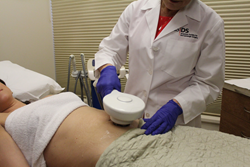 Rolling Meadows, Ill. (PRWEB) September 01, 2015
Consumers overwhelmingly prefer to have their cosmetic medical procedures done by members of the American Society for Dermatologic Surgery, according to a new survey that also offers insight on why that is the case.
The 2015 ASDS Consumer Survey on Cosmetic Dermatologic Procedures – which reflects views on cosmetic medical treatments and ratings for 10 specific procedures – shows the majority of respondents in eight of 10 categories who had visited a dermatologist chose an ASDS member. And in all 10 categories, the majority of respondents indicate they would consider an ASDS member for a procedure.
Why are consumers who are interested in cosmetic procedures and ASDS members such an ideal match? The survey underscores several key factors.
First, the top procedures consumers are considering and the ones that generated the highest satisfaction ratings in the survey all are among the top treatments innovated and performed by ASDS members.
The survey revealed three of the top four procedures consumers are considering are laser and light treatments for skin tightening and wrinkles, laser hair removal as well as laser and light treatments for facial redness and skin tone. ASDS members performed about 2.7 million laser, light and energy-based procedures in 2014, according to the Society's procedures survey.
Procedures with top satisfaction rates are injectable wrinkle-relaxers and injectable fillers – both core procedures for ASDS members. More than 1.7 million wrinkle-relaxing injections and more than 1 million soft-tissue fillers were performed by ASDS members last year.
"It is no surprise that consumers favor ASDS members in the majority of cosmetic categories," said ASDS President George J. Hruza, M.D., M.B.A. "Our members are experts in the procedures they are considering most and that yield the highest satisfaction ratings."
Survey respondents who had cosmetic medical procedures indicated they want to look as young as they feel – or better – for their age. The desire to appear more attractive and feel more confident were the other top factors in their decisions.
Hruza said those motivations align perfectly with the results delivered by ASDS members, who combined for more than 6 million cosmetic treatments in 2014, according to the procedures survey.
"Whether patients are seeking skin rejuvenation, restoring facial volume or a variety of other treatments, our members are renowned for their ability to help patients look their best," Hruza said. "People enjoy the confidence boost that comes from liking the way they look, and ASDS members consistently make that a reality."
Consumers are wise to choose ASDS members – the foremost authorities on skin procedures – for their cosmetic treatments, he said.
"Patients understand they can count on ASDS members to expertly perform a full range of cosmetic procedures," said Hruza. "The level of training and expertise our members possess has earned their trust."
About the Survey
Data were obtained through a blind online survey conducted from April 30 to May 4 through the web-based Contribute service. The survey received 7,315 responses.
About ASDS
The American Society for Dermatologic Surgery is the largest specialty organization exclusively representing dermatologic surgeons who have unique training and experience to treat the health, function and beauty of your skin. ASDS members are pioneers in the field. Many are involved in the clinical studies that bring popular treatments to revitalize skin and fill and diminish wrinkles to the forefront. Their work has helped create and enhance many of the devices that remove blemishes, hair and fat, and tighten skin. Dermatologic surgeons also are experts in skin cancer prevention, detection and treatment. As the incidence of skin cancer rises, dermatologic surgeons are committed to taking steps to minimize the life-threatening effects of this disease. For more information, visit asds.net.
Follow us:
Website: asds.net
Follow ASDS on Twitter: twitter.com/ASDSSkinExperts
Become a fan of ASDS on Facebook: facebook.com/ASDSSkinExperts
Locate a dermatologic surgeon in your area: asds.net/findadermatologist.aspx
Contact:
Jay Schwab
Communications Manager
American Society for Dermatologic Surgery
jschwab(at)asds.net
847-956-9143