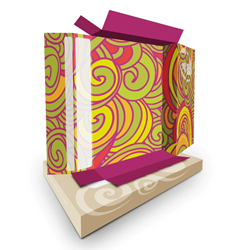 There are lots of other opportunities which brand owners and retailers are beginning to understand. It will be brand owners and design agencies that will come up with the fantastic ideas to drive this market. At the moment we are all learning together
(PRWEB UK) 7 September 2015
Roll up to the Alexir stand at the Packaging Innovations Show and design your own personalised pack of Cadbury's chocolate mini rolls.
The Alexir Partnership will be offering visitors to their stand E22 the chance to design a free pack of Cadbury's chocolate mini rolls, kindly donated by Premier Foods.
From Monday September 7th, anyone who has registered for the show can log on to Alexir's specially created website http://www.mypersonalisedcartons.co.uk to design your own personalised takeaway box, which will be available for collection at stand E22.
Alternatively, visitors to the show can come onto the stand, design their own package for that someone special and watch it in production via a live link.
The unique giveaway will highlight how the UK's leading packaging and carton manufacturer Alexir has teamed up with two other companies to revolutionise the folding carton industry.
Having joined forces with Advanced Business Equipment, a Xerox Premier Partner in Uxbridge, and Infigo Software Limited, based in Crawley, they are delighted to offer a complete product to the packaging industry.
Using Infigo's Catfish web-to-print software, visitors will have the chance to insert their name and message on a template and watch the artwork arrive at the Alexir Digital showroom on a live feed.
The Xerox iGen digital press will then print the unique piece of packaging while the team discusses the many benefits of digital print in the packaging industry. The packs will be filled on-site with the Cadbury's mini rolls and mailed out to the visitors attending the show at London Olympia, from 16th to 17th September.
The Alexir Partnership, based in Edenbridge in Kent, recently became the first major carton converter in the UK to invest in a digital press, having been impressed by the solution presented by Advanced and Infigo. The online digital solution gives brand owners and retailers more flexibility to create shorter print runs and a quicker turnaround time to get changes to the marketplace.
Douglas Gibson, Managing Director of Infigo, said: "The combination of our software and the Xerox iGen digital press has huge advantages for printers, converters and brand owners.
"At present, they are limited to lengthy runs of thousands of items, all with the same packaging. Our technology, in partnership with Advanced and Alexir, allows flexibility and the data to be varied.
"Variable pricing labels could be printed directly onto the package, rather than incurring the cost of additional labelling, and at short notice to adapt to market needs. It gives brands the ability to vary their products for a wide range of reasons, such as security tracking or regionalisation, personalisation or simply a special offer."
Adele Cable, Digital Printing Consultant at Advanced Business Equipment, said: "We offer the expertise that no one else can. This combination of equipment and software presents a complete solution, allowing a brand owner to make and then track variations and discover what works best with the customer."
Claire Summersby, Marketing Manager and Head of Innovation, at the Alexir Partnership said: "Brands are working on ways to engage with their customers. For example it is great to have a pack with your name on it, but there is more mileage to digitally produced packaging than just names.
"Our customers are looking at regionalisation for example, which will open the flood gates to ways of packaging and marketing that have been impossible before. There are many ways that the brands can now engage with their customer and make that customer feel valued and, as a carton converter, we can supply the technology to enable this.
"There are lots of other opportunities which brand owners and retailers are beginning to understand. It will be brand owners and design agencies that will come up with the fantastic ideas to drive this market. At the moment we are all learning together."
About the Alexir Partnership
The Alexir Partnership is always pushing forward and leads the way in innovation in the carton-converting industry. Not only do they manufacture over 250 million cartons a year but they also run a highly successful food co-manufacturing plant making them a unique 'design to delivery' packaging provider for their customers in the FMCG industry.
About Infigo Software Limited
Infigo Software is a leader in personalised print and marketing engagement solutions. The company creates easy-to-use and easy-to-integrate systems for business-users in the print, retail, corporate and creative agency industries; delivering innovative online services that enhance our clients' B2B and B2C businesses. Its Catfish platform is used by hundreds of online retailers, marketing professionals and skilled printers – enabling them to capitalise on the hottest personalisation trends whilst improving their profitability and competitive advantage.
About Advanced Business Equipment
Advanced Business Equipment is one of the largest and most established suppliers and integrators of digital print hardware, software, solutions and service in the UK. The company is one of Xerox's largest resellers in Western Europe in terms of scale, managed print services and large production equipment sales.
For more information
Claire Summersby
Marketing Manager & Head of Innovation
The Alexir Partnership
csummersby(at)alexir(dot)co.uk
01732 866681
http://www.alexir.co.uk