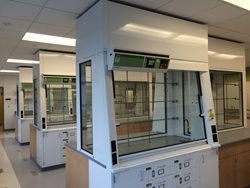 Rowley MA (PRWEB) September 03, 2015
If you plan to attend the 27th annual Tradeline College and University Science Facilities conference in Boston this October, you will also want to sign up for the tour of Framingham State University's newest addition to Hemenway Hall taking place on Sunday, October 18th. The tour includes a walk through of the (8) chemistry teaching labs that are exclusively utilizing (49) filtered fume hoods that utilize Erlab's GreenFumeHood Filtration Technology– featuring the proven Neutrodine filter – which makes the filtered fume hood possible.
As the world's largest installation, the university benefits from the reduction of the mechanical system size by 25%, lowering the project's total first costs by over $917,000, a net savings of over $330,000 and estimated $24,500 annual operating cost savings.
The $54 million, four-story science complex addition (68,000 gsf), and renovation (167,000 gsf) includes sixteen teaching labs, research labs, classrooms, departmental spaces, and breakout space for eleven departments including biology, chemistry, physics, mathematics, nursing, computer sciences, geography, child development, and psychology. Teaching facilities for the nursing department include a simulation suite, bed suite, exam rooms, group study rooms, and seminar space. The complex will house 49 filtering fume hoods to support the organic, inorganic, physical and analytical chemistry teaching labs
To learn more about the tour or join the conference, visit: http://www.tradelineinc.com/academic2015/tours
Visit http://www.erlab.com to learn more about Erlab's commitment to the safety of laboratory personnel.
About Erlab:
For over 45 years, Erlab's passion is to focus on the research & development, design, and manufacture of cutting-edge chemical filtration for the laboratory. As an innovator, Erlab is committed to safety, performance, energy efficiency and sustainability, and has remained number one in the world for ductless filtering fume hoods since 1968.