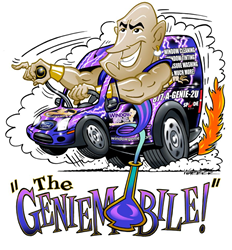 Hot rodders will recognize some attributes of Ed Roth's old "Rat Fink" car-toons, but with the Window Genie character himself taking over the driving duties.
Cincinnati, OH (PRWEB) September 01, 2015
National home service franchise, Window Genie has commissioned well-known automotive artist Roger Warrick for a recent branding project. Window Genie's head turning service vehicle, The GENiEMOBiLE™ was remastered in vintage style, illustrated by Warrick to resemble Ed Roth's Rat Fink art from the 1960s.
Window Genie's Founder and CEO Rik Nonelle met Warrick at the Concours d'Elegance at Cincinnati's Ault Park earlier this summer. Having admired Warrick's work for years, even collecting his art for his home and the Window Genie corporate headquarters, Nonelle approached Warrick with the idea to collaborate. Warrick said of working with Nonelle, "I was very pleased with the opportunity to team up with Rik Nonelle and Window Genie to create their very own "The GENiEMOBiLE™." Hot rodders will recognize some attributes of Ed Roth's old "Rat Fink" car-toons, but with the Window Genie character himself taking over the driving duties. He was a great character to work with, who put his ego aside for the greater artistic good (the Genie, I mean, not Rik!). All in all it was a fun experience, and I think it conveys the enthusiasm with which Window Genie goes about its business."
The illustration features the animated Genie that appears in Window Genie's logo, driving a Ford Transit, the company's main service vehicle. Also included on the truck is the logo for Spade Kreations, a local automotive aftermarket and hot rod customization shop in Cincinnati. Nonelle said, "This project was a fun way to show our appreciation for The GENiEMOBiLE™ and all the ways it's helped literally drive the business forward. Spade has been a very important partner of ours for years, helping make the Geniemobile a cornerstone in our branding efforts. They've done vinyl wrap installation on every new service vehicle we send out from the Cincinnati office to our franchise partners across the nation. As a mobile business, The GENiEMOBiLE™ is a huge part of branding because it's able to provide us 24/7 mobile visibility like a billboard on wheels."
Window Genie plans to use the illustration for custom branding on apparel. "It's a fun way to promote the brand with a bit of nostalgia," said Nonelle. "We hope our team members, customers and partners will enjoy a creative homage to The GENiEMOBiLE™. As a long-time fan of Roger Warrick's, it's exciting to see our brand come to life, resembling the rat fink shirts I wore as a kid."
For more information about the collaboration, or to purchase a "The GENiEMOBiLE™" shirt, contact Window Genie's corporate office at 800-700-0022 or email Erin McDermott at emcdermott(at)windowgenie(dot)com
About Window Genie: Window Genie specializes in residential and light commercial window cleaning, window tinting, pressure washing, gutter cleaning and more. Rik Nonelle started Window Genie in 1994 as a small local window cleaning business in Cincinnati Ohio. With franchise operations beginning in 1998, Window Genie has since grown to a system of over 80 franchise partners operating in 26 states. Recently listed by Inc. Magazine as one of America's fastest growing private companies, Window Genie has also been named a top low-cost and home-based franchise by Entrepreneur Magazine, and listed by Money Magazine as one of the 13 Things to do with $100,000 Now. Franchise opportunities are available nationwide. For more information, call 800-700-0022 or visit Window Genie online.
About Roger Warrick: Roger Warrick has been a motorsports fan (and artist) since his dad took him to see his first dirt track race in 1973 at age 6. His early love of drawing led him to attend The Columbus College of Art & Design, where he attained a BFA in Illustration in 1989. Warrick has worked as a freelance illustrator in Indianapolis and Cincinnati. His racing originals and prints have been commissioned by Grassroots Motorsports, Watkins Glen International, Mid-Ohio, Paul Oxman Publishing, Drive! Magazine, Bristol Motor Speedway, Newman-Haas Racing, and AutoWeek. He has been the official poster artist for the Sebring 12 Hours since 2005, and his work hangs in the National Sprint Car Hall of Fame.