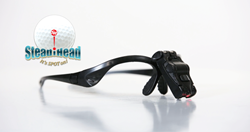 Steadihead is the best training tool to help lower your score regardless of your handicap. It works with Touring Pros to novice beginners.
Palm Desert, California (PRWEB) September 10, 2015
Becoming a better golfer is now possible without spending thousands of dollars on new clubs, countless hours on the driving range, or having a golf swing dismantled and rebuilt. The simple fact is fewer putts means lower scores, lower scores means a lower handicap, and a lower handicap means a better golfer.
There are 3 common denominators associated with poor putting: improper set up, inability to see the intended line of the putt, and players not keeping their heads still during the stroke. The Steadihead was designed by LPGA Professional Bobbi Salmon to address all three factors and allows all golfers, regardless of handicap, to quickly fix these problems. Use the Steadihead at home on any surface, in the office, or on the practice green. Lower scores with as little as one use—it works that well.
Bobbi Salmon is listed by Golf Digest Magazine as one of the top 50 teaching professionals in the United States. With over 30 years of LPGA teaching expertise behind the Steadihead, dramatic results can be seen after the first use. The Steadihead combines the latest in safe laser technology with a comfortable fit and lightweight solid design. It comes complete with batteries and a clip on carrying case and instructions for use. For video tutorials and more on the technology behind Steadihead, visit http://www.steadiheadputting.com.