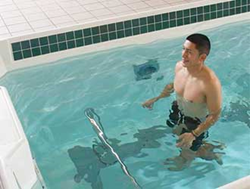 An upcoming HydroWorx webinar will share the story of a Division I swimmer, looking at the remarkable journey from pre-operation to post-operation, and how aquatic therapy played a critical role.
Middletown, PA (PRWEB) September 03, 2015
According to researchers, approximately one million knee arthroscopies are performed in the United States each year. Patients typically require physical therapy post-op. However, many land-based therapeutic exercises are weight-bearing, which can result in pain and discomfort, as well as faster fatigue. This is why many physical therapists are including aquatic therapy sessions into their regimens, especially for patients who have undergone knee arthroscopies. The same is true for athletic trainers working with athletes who have experienced this type of surgery.
The exercises that can be performed in a water-based environment are unique to each patient's needs, necessitating creativity and innovation. To help physical therapists, athletic trainers and coaches better understand how they can help clientele come back faster after knee arthroscopy surgery, HydroWorx is offering a free, one-hour webinar titled, "Functional Post-Op Rehab of Division I Swimmer Using Aquatic Therapy." The webinar will occur on Thursday, September 3, 2015, from 1:00-2:00 p.m. E.D.T.
Collin Francis, MS, ATC, LAT, Assistant Athletic Trainer, Indiana University, will present "Functional Post-Op Rehab of Division I Swimmer Using Aquatic Therapy" and share his experiences helping a Division I swimmer who underwent arthroscopic surgery on both knees. Using this case study, he will comprehensively discuss how the surgeries affected the athlete, how aquatic therapy was utilized as part of post-op treatment and the post-op rehab schedule the athlete followed.
This webinar is suited for anyone who wants to learn more about developing a thorough approach for patients recovering from arthroscopic surgery of the knee. Athletic trainers who attend "Functional Post-Op Rehab of Division I Swimmer Using Aquatic Therapy" in its entirety can receive one CEU from the BOC. Those who are certified by a different organization must petition their agency for certification or credits.
To register for this online event, please visit this link prior to the start date and time.
About the Presenter
Collin Francis has a longstanding reputation as an expert in the field of athletic training; most recently, he was on the staff for the 2013 World University Games in Kazan, Russia. Francis also works for the USA Swimming National Team as both an Athletic Trainer and a Medical Consultant. He holds degrees from Clemson University and the University of Delaware. As an Assistant Football Athletic Trainer at Indiana University, he assists the Head Athletic Trainer and serves as Director of Rehab for the football team.
About HydroWorx®
Since the late 1990s, HydroWorx has manufactured aquatic therapy pools with built-in underwater treadmills to enable physical therapists to more effectively offer their patients the opportunity to increase range of motion, decrease risk of falls and joint stress, and remain motivated through the rehab process.
Products such as the HydroWorx 2000 and 500 Series therapy pools, along with the new construction-free HydroWorx 300 system have revolutionized the face of aquatic therapy; in fact, HydroWorx technology is used by world-class facilities like the renowned Kennedy Krieger Institute and The Andrews Institute, as well as physical therapy clinics across the country.
HydroWorx offers a wide range of underwater treadmill pools and peripheral products and services. Every day, more than 23,000 athletes and patients use HydroWorx technology to recover from injuries and health conditions.
More information about HydroWorx can be found at http://www.HydroWorx.com.