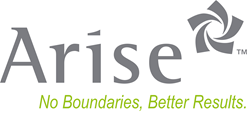 "Arise continues to focus on meeting the industry standards for security protocols and certifications to protect our clients' sensitive data," said Martin Ingram, Chief Information Officer at Arise
Miramar, FL (PRWEB) September 02, 2015
Arise Virtual Solutions Inc., the leading, global provider of virtual/work-at-home business process outsourcing (BPO) and crowdsourcing solutions, announced today that it has achieved and is certified as a HIPAA compliant organization, meeting the HIPAA Privacy and Breach Notification Rules.
Arise's HIPAA compliance certification was performed by Apgar and Associates. The evaluation was designed to measure the controls over security and privacy processes for protected health information (PHI). The HIPAA privacy and security rules provide protections for PHI and specify a series of administrative, physical, and technical safeguards for covered entities and their business associates to use to assure the confidentiality, integrity, and availability of electronic protected health information.
"Arise continues to focus on meeting the industry standards for security protocols and certifications to protect our clients' sensitive data," said Martin Ingram, Chief Information Officer at Arise. "Achieving HIPAA compliance via a third party audit reinforces our commitment to our clients and their customers. This validation extends Arises commitment to industry standards and supplements our PCI Level 1 certification completed earlier this year, marking over a decade of Arise's PCI compliance. Healthcare clients can remain confident that the proper measures are in place to safeguard their medical records and meet HIPAA federal standards."
This certification along with many others that Arise holds further confirms Arise's ability to secure confidential, sensitive data using industry best practices. Arise continues to empower its clients by providing top quality security and, in turn, enhanced customer experiences.
Arise complies with PCI Level 1, SSAE 16, and HIPAA. Arise also has a multi-factor authentication and layered approach to end-to-end client security and a Category 5 Hosted Data Center Facility, which exceeds Federal Department of Defense Standards.
About Arise Virtual Solutions:
Arise Virtual Solutions is changing the way companies think about call center services. Arise provides a virtual platform to connect primarily work-at-home service professionals running small call center businesses to Fortune 500 and other large companies. For over a decade, Arise's platform has enabled superior and extremely flexible customer contact, business processing and consulting solutions for numerous companies around the globe, uniquely blending crowdsourcing innovation, virtual technology and operational efficiencies to deliver an enhanced customer experience for a company's customers.
To learn more about No Boundaries, Better Results™ and how Arise Virtual Solutions can help you, please visit http://www.arise.com.