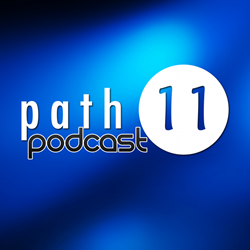 The podcast has been a great way to keep in touch with our fans on a weekly basis while in production of our third film.
Kingston, NY (PRWEB) September 03, 2015
Local filmmakers and now co-hosts of the up and coming podcast Path11 Podcast featured on iTunes, April Hannah & Michael Habernig from Path 11 Productions have had great success in launching their Path11 Podcast with 23 episodes released since April 2015.
This new age podcast has featured Hay House authors, Teal Swan who is the well known Spiritual Catalyst and Linda Howe, leader in the field of Akashic studies, top leading military psychic spy and remote viewer Joe McMoneagle, President, Luis Minero of the International Academy of Consciousness as well as NASA nuclear physicist Thomas Campbell are among the 23 podcasts. Path 11 Podcast also features experts in the field of hypnotherapy, yoga, sound healing, lucid dreaming and astral projection. These topics fill hours of conversation about energy, consciousness and the concept that humans are more than their physical bodies.
"The podcast has been a great way to keep in touch with our fans on a weekly basis while we are in production of our third film. It's a way to give back to our audience and is a great way to keep the conversation going about spiritual awakening and healing," says Co-host, April Hannah.
"Listeners can find the podcast in the traditional podcast directories such as iTunes & Stitcher radio, as well as on our website," says Co-host Michael Habernig. "We have also recently added Amazon affiliate links so our audience can support our guests by purchasing their books and products and a small portion of each purchase helps to support the podcast, future films and projects."
The Path11 Podcast launches new episodes every Monday via their Facebook and twitter handle, their website and on iTunes and Stitcher radio. Path11 Productions is currently producing its third film in "The Path Documentary Trilogy". The first film, "The Path: Afterlife" is available online at iTunes and GaiamTV. The second film, "The Path: Beyond the Physical" can be rented or purchased at Vimeo.com. The DVD's of the films are also available for purchase at Amazon.com and thepathseries.com. For more information about Path11 Productions LLC and their new Podcast, contact Michael Habernig at 800-520-6303 or visit their website, http://www.ThePathSeries.com.