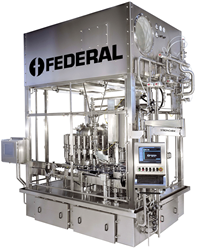 PEWAUKEE, Wis. (PRWEB) September 01, 2015
Federal Mfg., powered by Pro Mach, demonstrates the breadth of its technical capabilities and commitment to responding to customers' needs for increased throughput and cost saving filling solutions at Pack Expo Las Vegas 2015, September 28-30. A level filling machine with new patent pending valve for specialty dairy and juice companies and an innovative net-weight filling machines for paints, chemicals, and high viscosity liquids will be on display. (Federal Mfg. Pack Expo Booth C-2917)
Helping specialty dairies grow
The new 10-valve, hygienic level filler with a four-head capper at Pack Expo is designed to enable specialty dairy and juice companies to cost effectively move to the next higher level of production and distribution. The new filler uses an innovative Federal valve that speeds up cleaning and offers extended product life and low maintenance.
The new valve represents the ultimate in simplicity and easy, fast cleaning. And, it was designed to operate with new lighter weight, more sustainable packaging. Traditionally filling valves for packaging milk and juice are held closed by a spring and compressed rubber arrangement. When a bottle rises and makes contact with the valve, it compresses the spring and must withstand a certain amount of pressure. As bottles become more lightweight, they often cannot resist that compression force. The new patent pending valve relies on gravity alone to keep the valve closed and works wonderfully with light weight packaging. In extended shelf life applications the valves do not have to be removed from the machine for cleaning which saves time and decreases labor.
The new filler, which meets the stringent 3-A standard for sanitary design, can run packaging as large as a gallon-and-a-half and as small as six ounces. Gallon-and-a-half sized containers can be run at speeds up to 40 a minute: Smaller sizes at up to 180 a minute. The new filler's small footprint provides the ultimate in flexibility, making it ideal for facilities with limited floor space. With its monoblock construction, the filler and capper are integrated on one machine base.
Innovative net-weight filler for paints and chemicals
"The net weight filler shown at Pack Expo is designed for filling 5 five gallon pails of latex paint per minute," said Mike Collins, Vice President of Sales and Marketing, Federal Mfg. "Since paint tends to harden on the side of traditional filling bowls and must then be scraped away, Federal designed an industrial Teflon-coated filling bowl. This new bowl design is cured and burnished to provide quick release properties for paint and chemicals, minimizing product loss due to hardening. It also reduces labor during changeover and consequently improves overall equipment effectiveness (OEE)."
The net weight filler features all touch screen control and a lubrication free, vibration-reducing epicycloidal drive train. Less vibration means more accurate and faster filling. Furthermore, these machines are cleaner and easier to maintain. Maintenance personnel will appreciate the cleaner, grease and lubricant free interior of the machine.
A solution for high viscosity free flowing liquids
The innovative Federal net weight single station demonstration filler on display at the show is designed to fill a wide range of products and sizes. Federal net weight filling technology can be used for packaging petroleum products, agricultural chemicals, food, edible oils, extracts, sauces, dairy, juice, and pharmaceuticals.
Federal net weight fillers use damped load cells with overload protection, which significantly reduces or eliminates the effects of vibration and initial fill shock. High speed analog and digital electronics allow each station to be filled by weight or time. These machines are constructed with heavy-duty stainless steel frames designed for years of service. Explosion proof options are available. The Federal AcuFill™ control system ensures optimum filling. Ethernet connectivity provides high speed communications with PLCs and Manufacturing Execution Systems (MES). The overall design intent is high uptime, low waste, ease of use, and decades of service.
For more information about Federal's level and net-weight filling families of machines as well as integrated cappers, call 855-371-4639 and visit http://www.FederalMfg.com. Be sure to stop by the Federal Pack Expo Booth C-2917.
About Federal
Durable, reliable, and hygienic designs have been the hallmarks of Federal fillers and cappers since 1946. To meet the strict demands of today's consumer, Federal has developed filling systems that further protect the quality, freshness, and flavor of products without compromising the core machine characteristics customers have come to expect in terms of operations and productivity. http://www.FederalMfg.com.
About Pro Mach
Pro Mach is a leading provider of integrated packaging and processing products and solutions for food, beverage, consumer goods, pharmaceutical, and other diverse companies. Through its brands, Pro Mach provides product packaging and processing equipment, PMMI certified training, installation, parts, and service in Bottling & Capping, Primary Packaging, Flexible Packaging, Material Handling, Labeling & Coding, and End-of-Line.
Pro Mach has a diverse customer base, from Fortune 500 companies to smaller, privately-held businesses worldwide, which depend on reliable, flexible, technologically advanced equipment and integrated solutions. Pro Mach is headquartered near Cincinnati, Ohio, with manufacturing facilities and offices throughout the United States, Canada, Mexico, and Europe. For more information about Pro Mach, visit http://www.ProMachInc.com.