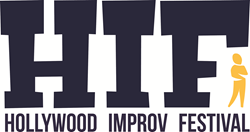 Hollywood, CA (PRWEB) September 01, 2015
The Los Angeles improv comedy scene is currently composed of several main theatres (such as Groundlings, Second City, UCB, Westside Comedy Theatre, and iO West) and a few smaller theatres (such as NOW, Miles Stroth, The Nerdist School Stage, and the Clubhouse). The Hollywood Improv Festival seeks to bring all of these groups together for a weekend to celebrate both the diversity of improv within the city and nationwide.
The Hollywood Improv Festival (HIF) will feature a variety of troupes including "indie teams" (teams with no specific affiliation), teams representing specific LA theatres, and teams from outside of Los Angeles. The festival will also feature two panels in which representatives from theatres such as Second City LA, The Nerdist School, The Miles Stroth Workshop, and Westside Comedy will openly discuss their thoughts on and experiences with improvisation and a few workshops for individuals seeking to hone their skills. There will also be a variety of prizes (including classes, tickets to shows, and annual subscriptions to Backstage) that will be raffled off during the festival.
The festival will run from September 18-20, 2015. The shows and panels will be held at the 99-seat Hudson Mainstage Theatre (6539 Santa Monica Blvd, Los Angeles, CA 90038) and the workshops will be held at NOW Improv (4210 Santa Monica Blvd, Los Angeles, CA 90029).
For more information, visit http://www.hollywoodimprovfestival.com or contact Executive Producer Jeff Thompson at jeff(at)hollywoodimprovfestival(dot)com.
The Hollywood Improv Festival is organized by the Middle Theatre Company, a 501(c)3 nonprofit organization whose focus is to support the art of improvisation in Los Angeles.