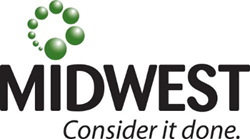 Canton, Ohio (PRWEB) September 02, 2015
For Midwest, this award is a testament to their passion for discovering creative solutions, as well as their commitment to entrepreneurship, industry-leading service, and product innovation. As the only company in the dust control and soil stabilization industries to make the list – and one of only three Environmental Services firms to have been listed seven times – Midwest has cemented their market-leading position in their field.
And thanks to their impressive 55% growth over the past three years, they are ranked at #45 in the Environmental Services category, and at #118 among seven-time honorees.
Since its founding in 1975, Midwest's strong commitment to innovation and entrepreneurship has fueled its growth. They first broke into the market with unprecedented products like Ice Free Conveyor® and Soil-Sement®, and have since grown to serve heavy industry and government clients across the globe with their 21 patented products and creative maintenance solutions. For industries that require dust suppression, soil stabilization, and anti-icing and deicing, Midwest's name is synonymous with excellence.
"For the past 40 years, we have prided ourselves on pushing the creative envelope and taking our client's needs to heart. We believe that only through unparalleled service and a willingness to take on tough challenges can you truly earn the trust of customers, employees, suppliers, and the community. This award reflects that dedication," said Bob Vitale, Midwest's CEO.
And adds Steve Vitale, President of this family-owned business, "Our commitment to problem solving drives the great results and great relationships we have with our clients, and I know that it has contributed to our growth. Each Midwest team member takes pride in sustaining a company that is not only great to work with, but for, and it is a tribute to their dedication to results and customer satisfaction that has helped us make the Inc. 5000 seven times."
At the heart of Midwest's mission is a passion for environmental stewardship, cutting-edge research and innovation, and a hands-on, personalized approach that has solidified their reputation as more than a product supplier – they are an end-to-end, one-stop-shop solution. Midwest employees are committed to the markets they supply, know their customers personally, and are always eager for opportunities to serve their clients better and more fully.
Their market-leading R&D laboratory continues to introduce new and innovative products and their strategic investment in research shows that this great company is dead-set on discovering ever better solutions to the environmental issues their clients face.
About Midwest
Midwest is a world leader in effective and environmentally-sound dust control, erosion control, soil stabilization and anti-icing solutions. To learn more about Midwest, visit their website at http://www.midwestind.com.
About the Inc. 5000
Inc. has maintained the Inc. 5000 list for 33 years. Past honorees include Intuit, Zappos, Under Armour, Jamba Juice, Timberland, Clif Bar, Pandora, Patagonia, and Oracle.