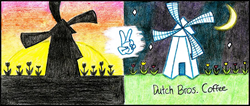 Dutch Bros was excited to provide youth an outlet to express creativity and keep color in the world.
GRANTS PASS, Ore (PRWEB) September 02, 2015
The "Excellent Adventure" continues for the Dutch Bros art contest winner as she receives the grand prize of her artwork being featured as the company's new kids cup as well as a $5,000 scholarship to be used towards her future aspirations.
Stella Rieth, 11, from Boise was surprised on Tuesday, Sept. 1, at her school by a limo and a full Dutch Bros entourage. The Dutch Bros crew showed up after school with her parents to celebrate her and her artwork. Stella was then notified she was the winner of the DB Kids Cup art contest and was presented with a year's supply of free Dutch Bros, Dutch Bros merchandise, art supplies, and a $5,000 scholarship.
Jeff Yarnell, the local owner of Dutch Bros Meridian and the location Stella and her family visit the most will be matching the $5,000 scholarship. These funds will benefit arts programs at Stella's school: Lowell Scott Middle School.
"We love seeing kids participate in the arts and went through all of the entries that came through the stands. They were thoroughly impressive," said Jeff Yarnell. "We are so stoked for Stella and excited to contribute to the arts at Lowell Middle School which provides students an outlet to freely express themselves."
The art contest inspired many creative cup designs that helped Jr. Mafia and Princess Penny stop the Mischievous Mad Cow from e-RAY-sing the color from the Dutch World. On Saturday, Aug. 1, Dutch Bros released its first issue of the "Dutch Bros Excellent Adventures Activity Book" to all locations.
The activity book followed the adventures of Jr. Mafia and Princess Penny as they ventured to different worlds to try to stop the Mad Cow from ridding the world of the beautiful color and artwork.
For two weeks, from Saturday, Aug. 1 to Saturday, Aug. 15, Dutch Bros provided children 12 years and younger a creative outlet to show what inspires them and asked them how they would recolor the Dutch world. Entries were accepted at all 249 locations, and then mailed to the Dutch Bros headquarters in Merlin, Ore. where they were judged based on creativity.
"There were so many wonderful entries that we decided to feature multiple works of art in 2016," said Travis Boersma, Dutch Bros Co-founder. "Thank you for adding color back into Jr. Mafia and Princess Penny's world. Together, we were able to stop the Mad Cow and show him that as along as there are inspired and creative minds our world will always be colorful."
See the original Dutch Bros Kids Cup Contest release.
###
About Dutch Bros Coffee
Dutch Bros Coffee is the country's largest privately held, drive-thru coffee company, with over 240 locations and over 4,000 employees in seven states.
Dutch Bros serves specialty coffee, smoothies, freezes, teas and a private-label, Dutch Bros Blue Rebel™ energy drink.
The rich, proprietary coffee blend is handcrafted from start to finish. Every ingredient is measured, every process timed, and every cup perfected.
With a mission of, "Making a Difference, One Cup at a Time," Dutch Bros donates over $1 million annually to nonprofit organizations and local causes selected by local owner-operators.
Dutch Bros Coffee is headquartered in Grants Pass, Ore., where it was founded in 1992, by Dane and Travis Boersma, brothers of Dutch descent.
To learn more about Dutch Bros, visit http://www.dutchbros.com, like Dutch Bros. Coffee on Facebook or follow @DutchBros on Twitter.
For Media Only
Contact: Jen Wheatley, pr(at)dutchbros(dot)com, 541.226.7787