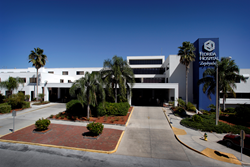 Zephyrhills, FL (PRWEB) September 01, 2015
September is National Prostate Cancer Awareness Month and Florida Hospital Zephyrhills wants to raise awareness about this disease that affects more than 233,000 men each year in the United States.
Prostate cancer is to men what breast cancer is to women. It is the most common non-skin cancer in America, affecting 1 in 7 men. One new case occurs every 2.3 minutes and a man dies from prostate cancer every 17.8 minutes. As men increase in age, their risk of developing prostate cancer increases exponentially.
Although only 1 in 10,000 under age 40 will be diagnosed, the rate shoots up to 1 in 39 for ages 40 to 59, and 1 in 14 for ages 60 to 69. More than 65% of all prostate cancers are diagnosed in men over the age of 65.
African-American men are 1.6 times more likely to develop prostate cancer compared with Caucasian men, and are nearly 2.4 times as likely to die from the disease. Men with a single relative with a history of prostate cancer are twice as likely to develop the disease, while those with two or more relatives are nearly four times as likely to be diagnosed.
"Early detection is the key for treating prostate cancer," said Randy Surber, President and CEO of Florida Hospital Zephyrhills. "By raising awareness, we can help more men get screened and diagnosed earlier."
The good news is that the cure rate for prostate cancer is very high – nearly 100% of men diagnosed in the local and regional stages of this disease will be disease-free after five years. The key is to catch the cancer early enough and that is why Florida Hospital Zephyrhills supports prostate cancer screenings.
A PSA blood test and Digital Rectal Exam (DRE) can be used to detect the presence of prostate cancer when no symptoms are present. These screenings can help catch the disease at an early stage when treatment is thought to be more effective with potentially fewer side-effects.
The American Urological Association recommends that men should discuss the PSA and DRE with their physician by age 40 to develop a screening plan that is right for them. Because a decision of whether to be screened for prostate cancer is a personal decision, it's important for every man to talk with his doctor about whether a prostate cancer screening is right for him.
To find a primary care physician or urologist near your home, call our physician referral line at 844-DOC-2DAY. [844-362-2329].
About Florida Hospital Zephyrhills
Florida Hospital Zephyrhills is a 139-bed regional medical center located in East Pasco County. It is a member of the Florida Hospital network of Adventist Health System, one of the largest health care providers in the state of Florida. Florida Hospital Zephyrhills has been nationally recognized by the American Heart Association, the American Stroke Association, The Joint Commission, The Leapfrog Group, and HealthGrades for excellence in providing top quality patient care with special emphasis on safety and patient outcomes. The award-winning Heart Institute has received recognition in the treatment of coronary intervention, heart failure, chest pain, open heart surgery, and electrophysiology procedures. The hospital offers a full range of inpatient and outpatient surgical offerings, including orthopedic services such as hip and knee replacement and advanced MAKOplasty® robotic partial knee and total hip replacement. The newly renovated Women's Health Center offers comprehensive services for women including gynecology, urology and pelvic floor health, labor and delivery through The Baby Place®, and breast care through the Simpson Breast Health Center. The hospital also offers 24/7 emergency services including a "fast track" option, imaging services, the Center for Wound Healing, and the Sleep Center. Visit FHZeph.org for more information.