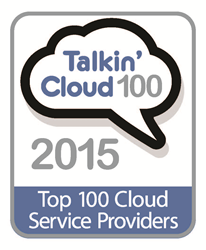 We're always striving to make sure we provide our customers with the highest possible value, and this award validates that effort
LONDON (PRWEB UK) 2 September 2015
NewVoiceMedia, a leading global provider of cloud technology which helps businesses sell more, serve better and grow faster, announced today that it ranks among the world's Top 100 Cloud Service Providers (CSPs), according to Penton's fifth annual Talkin' Cloud 100 report. The Top 100 CSPs generated more than $30 billion in combined cloud services revenues in 2014, up nearly 29 percent from the previous year.
In addition to honouring NewVoiceMedia in 44th place, this year's report profiles cloud service providers, cloud services brokerages, cloud services aggregators, managed service providers and value-added resellers.
"Our goal at NewVoiceMedia is to make our cloud capabilities the absolute best-in-class, and we're honoured to be formally recognised once again amongst the world's top 100 cloud service providers", said Jonathan Gale, CEO of NewVoiceMedia. "Our cloud customer contact solution integrates seamlessly with Salesforce, so organisations can connect the right sales or service rep to the right customer and use the wealth of customer data at their fingertips to offer personalised service and drive a more effective sales team. We're always striving to make sure we provide our customers with the highest possible value, and this award validates that effort".
The Talkin' Cloud 100 list is based on data from Talkin' Cloud's online survey, conducted from January to May 2015. The list recognises top cloud service providers based on metrics such as annual cloud services revenue growth (both in actual dollars and percentage growth), and input from Penton Technology's Channel editors.
"On behalf of Penton and Talkin' Cloud, I would like to congratulate NewVoiceMedia for its recognition as a Talkin' Cloud 100 honoree", said Nicole Henderson, Editor in Chief, Talkin' Cloud. "The industry is changing at a rapid pace and the Talkin' Cloud 100 companies consistently demonstrate an agility and flexibility that sets them apart. They do so with innovation, via strategic partnerships, and through their commitment to providing superior customer experiences".
The full report is available at http://www.talkincloud.com/tc100. For more information about NewVoiceMedia, visit http://www.newvoicemedia.com.