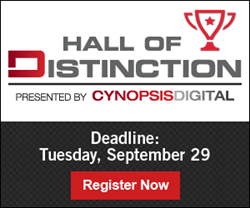 New York, New York (PRWEB) September 04, 2015
Cynopsis Digital announced the launch of the Hall of Distinction, honoring ongoing outstanding work in digital media. Entries are being accepted from now through Tuesday, September 29. The winners will be announced at an awards ceremony hosted in New York City on November 13, 2015.
"As the digital content market matures, we felt this was the right time to honor those people and campaigns that demonstrate continuous excellence in the field," said Roberta Caploe, Cynopsis Media's Associate Publisher. The ceremony is a natural adjunct to the Model D Awards. It will be a great event."
Cynopsis Digital is the daily must-read e-newsletter for professionals in TV and online video content creation, distribution, media buying and planning, ad sales, technology, research and marketing. The Hall of Distinction is open to anyone who has demonstrated continuing excellence in engaging audiences and spurring online growth within the industry. We are looking for elite innovators with a record of outstanding achievement, creativity and strategic thinking in online communication. (Enter Online Now)
For entry questions, contact Sarah Martinez at Sarah@cynopsis.com. For advertising or sponsorship information, contact VP of Sales & Marketing Mike Farina at mike@cynopsis.com.
About Cynopsis Media:
Cynopsis Media is a division of Access Intelligence LLC. The Cynopsis Media family of products includes Cynopsis, Cynopsis Digital and Cynopsis Sports daily e-publications, weekly Cynopsis Jobs e-publication, Special eReports, Event/Summits and a strong database of Classifieds and more. Visit cynopsis.com.