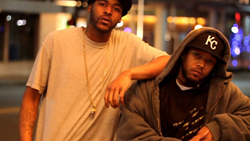 Kansas City, MO (PRWEB) September 01, 2015
Today Coast 2 Coast Mixtapes announce the release of the latest music video from Kansas City's Dart and Rell for their single "Target Practice". The video for "Target Practice" was shot by Clarence E. Lomax III in downtown Kansas City, Missouri and features a cameo from Oshone Malik. It can be viewed in its entirety at the Coast 2 Coast Mixtapes website.
Dart and Rell are currently seeking press opportunities, interviews, features, and more. They can be reached through their official Twitter.
About Dart and Rell: Kansas City, Missouri's best kept secret, originating from Chicago, Illinois, these indie artists represent an incomparable sound with their meaningful lyrics and distinctive beats. Dart was originally apart of a tight-knit group known as Last Daze, until the life of a member was cut short by a bullet. Once that door closed, another would open for Dart with his collaboration with Rell. Life struggles such as homelessness and death are just a few obstacles that contributed to making them who they are; two brothers that go hard. Today, Dart and Rell perform at numerous clubs and events. Dart recently released a video called "Don't Play," shot by Jefferey Mundinger for his upcoming mixtape, while Rell is currently in the studio putting together two hot singles that will soon be released. A number of opportunities have been presented, due to winning first place at the Coast 2 CoastLive Edition competition held in Kansas City, Missouri they will be attending the convention in Miami, Florida Labor Day weekend, September 4-7 2015. Also, the brothers will be in the studio continuing to produce their original sound for people to enjoy. They hope a major opportunity will come about in the near future that will gain them national recognition. For more info on Dart and Rell, visit their official Facebook page.
About Coast 2 Coast Mixtapes:
Coast 2 Coast Mixtapes are the most widely distributed mixtapes in the world, with over 100 million downloads/plays generated by over 300 volumes officially hosted by major artists. Coast 2 Coast has a solid reach in the new music industry with a digital magazine, DJ coalition, industry tips blog, yearly convention, and more. Coast 2 Coast Mixtapes represents a unique opportunity for artists of all urban genres, from major to indie. For more information, visit http://www.coast2coastmixtapes.com.