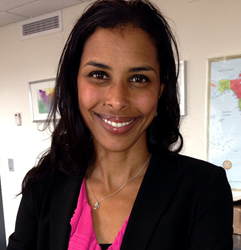 As a girls' school graduate, she represents the level of achievement and meaningful contribution we hope for every student.
(PRWEB) September 03, 2015
Sara Bleich, Ph.D., associate professor of health and policy management at Johns Hopkins University Bloomberg School of Public Health and an internationally recognized scholar on obesity prevention and control, has been selected for the prestigious White House Fellows program for 2015-16. Dr. Bleich, a Baltimore native and 1996 graduate of Garrison Forest School, an all-girls' independent school in Owings Mills, Md., began her fellowship on August 24.
Dr. Bleich is one of 16 White House Fellows in the 2015-16 class, which represents exceptional young men and women leaders across the country. Founded in 1964, the President's Commission on White House Fellowships is one of the United States' most prestigious programs for leadership and public service. The White House Fellows spend a year working at the highest levels of the Federal government and with senior White House Staff, Cabinet Secretaries and other top-ranking government officials. Fellows, who are full-time and paid for their Fellowships, also participate in an education program consisting of roundtable discussions with renowned leaders from the private and public sectors.
During her yearlong leave of absence from Johns Hopkins for her Fellowship, Dr. Bleich will focus her Fellowship in the U.S. Department of Agriculture, an assignment that brings to the forefront her impressive accomplishments and noted expertise in the public health field, specifically on issues of obesity. Last February, Dr. Bleich won the national Frank 2015 Prize in public interest communication, which celebrates peer-reviewed research that informs the growing discipline of public interest communications. She is the author of more than 75 papers in public health and medical journals and the recipient of the 2012 "Best Research Manuscript" award by the Obesity Society for her paper in the journal "Obesity." In 2006, she was awarded the "Most Outstanding Abstract" at the 2006 International Conference on Obesity in Sydney, Australia. Dr. Bleich is frequently interviewed by the press to disseminate new information from her research and to provide obesity-related research. Recent appearances include Good Morning America, NPR and Time magazine. Grant awards include a Career Development Award from the National Institutes of Health and Robert Wood Johnson Foundation Healthy Eating Research grants.
She received her B.A. in psychology from Columbia University and her Ph.D. in health policy from Harvard University. A member of the Garrison Forest Board of Trustees, Dr. Bleich has co-chaired the GFS strategic planning process and volunteered as a Career Day speaker. Dr. Bleich was a Baltimore Educational Scholarship Trust (B.E.S.T.) scholar while a GFS student and volunteers for B.E.S.T.
"It is exciting for all of us at Garrison Forest to see Sara recognized by the White House for her significant research contributions in the public health arena," notes Dr. Kim Roberts, Head of Garrison Forest School. "As a girls' school graduate, she represents the level of achievement and meaningful contribution we hope for every student."