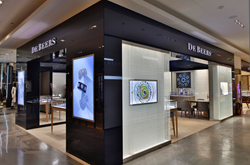 De Beers has thrived since its launch in France with both local and international clients and we are delighted to bring our new store concept to Paris.
Paris, France (PRWEB) September 02, 2015
Located on the prestigious first floor, this new store reflects the brand's DNA through a new, luminous store concept that brings to life our diamonds and jewellery creations in a beautiful environment featuring the brand's signature etched glass.
This opening is simultaneous to the launch of the new Talisman collection, in celebration of its 10 year anniversary. Clients are now able to discover the latest designs of this iconic collection for De Beers: a beautiful combination of rough and polished, coloured and white diamonds, paying homage to the mystical power of diamonds. De Beers being the first jeweller to have introduced rough diamonds into contemporary high jewellery designs, with the launch of the original Talisman collection in 2005.
De Beers Diamond Jewellers at Galeries Lafayette Haussmann, First Floor
40 Boulevard Haussmann
75009 Paris
T : +33 1 45 26 05 21
E : FRGaleries(at)debeers(dot)com