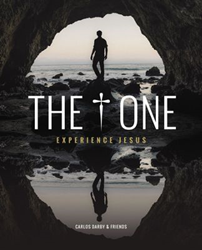 See it. Feel it. Experience it.
(PRWEB) September 02, 2015
We are living in a world increasingly geared toward visual learners. With the explosion of sites like Instagram and Pinterest, the way we consume content is changing before our eyes. Developed for the avid worldwide consumer of visual content, The One uses The Voice Bible translation alongside powerful, full-color images to maximize the long-term impact for readers, creating a dynamic way to engage with and experience the scriptures.
The One takes you on an exciting visual and written journey to uncover who Jesus really is. Discover your true value in Him, and experience a transformed life based on a genuine daily relationship with a Savior who brings hope and purpose to all who seek Him.
The One from Thomas Nelson/HarperCollins Christian Publishing is available starting Tuesday September 1st 2015 as well as its companion app for the IPhone 5, 6, 6+ and Android.
With The One, you'll experience:

Bible stories leaping off the page and screen in gripping detail
Dynamic images that tell biblical stories in a way that engages visual millennials
Powerful articles and interviews by globally respected Christian leaders
Selected scriptures guaranteed to illicit thoughtful responses
Personal testimonies of the life changing power of a relationship with Jesus
Topics include sharing your faith, living in an unjust world, dealing with adversity
"See it. Feel it. Experience it." - Judah Smith, best-selling author/contributor to The One
The One contributors include:
Carlos Darby is CEO and Creative Director of Abrupt Media LTD based in Marbella Spain who studied Fashion Business at the London College of Fashion and earned degrees from Nottingham Trent in Fashion Marketing and Communications. His work as a Creative Director began with producing magazines for Hillsong Church London. Carlos then led the team that produced "WORD," a NT Bible magazine which has been in print for 5 years and distributed to more than 115,000 people globally. He is also a story contributor to http://www.faithstreet.com. Carlos' passion is to reach a visual generation by creating new resources that help people understand the truth of the gospel in a way that makes sense to them. "We want people to have a life with Jesus that is experienced, attractive, and authentic. Ultimately, we want to be part of the church of Jesus being built one person at a time, seeing followers of Jesus being all they can be in Christ." Carlos has accomplished that in The One.
Judah Smith is the lead pastor of the City of Church in Seattle, Washington. The City Church is a thriving multisite church noted for its cultural relevance, commitment to biblical integrity and faith, and love for Jesus. Judah is known throughout the United States and the world for his preaching ministry. His fresh, anointed, humorous messages demystify the Bible and make Christianity real. Judah is also the author of the New York Times bestselling book, Jesus Is _____.
Charlotte Gambill has an infectious love for life, a deep love for people, and a zealous love for God's House. Her passion is to build the local church—to see people reach their full potential and to strengthen leadership. Her practical, humorous, and passionate application of God's Word is rallying a generation to embrace the broken and find hope. An author, speaker, and pastor, Charlotte leads Life Church in England with her husband Steve. They have two children, Hope Cherish and Noah Brave.
Carl Lentz is one of twelve Hillsong Church lead pastors globally. He pastors Hillsong New York, and a passion to serve the city and make an impact worldwide. Carl and his wife Laura embrace a simple, dedicated faith in Jesus and are passionate about delivering the gospel in a method that makes sense to this generation.
Gary Clarke is lead pastor of Hillsong Church London, a thriving, growing church with six campuses and thousands gathering every weekend to worship. As a pastor, teacher, and leader, Gary is passionate about seeing people live to their fullest potential, empowering them to practically reach and impact their day-to-day world. He is devoted to providing real solutions to some of the problems humanity faces, from youth issues in London to the worst of world poverty, and has initiated a variety of partnerships and projects that bring justice to people who find themselves in less-fortunate circumstances.
Check out the video at http://www.theoneexperiencejesus.com.
"The One: Experience Jesus" by Carlos Darby & friends from around the globe including Judah Smith, Charlotte Gambill, Carl Lentz, Gary Clarke and more
Publisher: Thomas Nelson/HarperCollins Christian Publishing
Publication Date: September 1, 2015
Print Length: 160 pages
Page Numbers Source ISBN: 0718036948