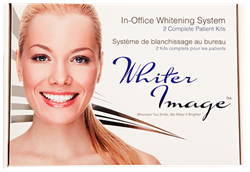 Innovative, Comprehensive Tooth Whitening solution
Brea, CA (PRWEB) September 03, 2015
The new In-Office whitening kit from Whiter Image Dental received a top review from Clinicians Report of Provo, Utah. The Clinicians Report is a leading information source to the dental industry. Product reviews were conducted by a selected group of dentists located throughout the U.S. Whiter Image's In-Office whitening kits were favorably validated for use in the dental office.
Findings of the evaluation:

Major advantage, the Professional strength whitening gel in the In-Office kit does not need refrigeration.
Non refrigeration formula minimizes storage issues.
Product does not need to warm-up before use.
Because the product formulation is highly stable, the strength and results of the product are consistent with claims.
Patients are very satisfied with the whitening results and their options for aftercare products in the Whiter Image line.
The products are priced 30% to 50% less than leading professional whitening brands.
70% of Dentists that have used Whiter Image's In-office kit agree that the product exceeds their expectations and would make the product a key part of their dental practice.
"Whiter Image Dental is dedicated to providing innovative solutions that enhance the experience of dental patients," says Daisy Nign, Brand Manager at Whiter Image Dental, "Our In-Office kit helps patients get their teeth white in shorter time, and the new formulation allows Dentists to provide optimal whitening without sacrificing patient comfort."
Whiter Image Dental is a national leader in the Dental Industry's teeth whitening product category, with a product line includes Professional, Take-Home, and OTC level tooth whitening products. For dental marketing support and more information about the product review from Clinicians Report contact Whiter Image Dental at 1-877-944-8330 or visit them at http://www.whiterimagedental.com/.
Like us on Facebook; create a new account and receive a special offer for first time customers.