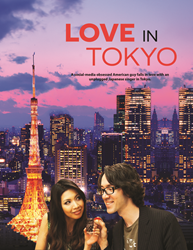 A social-media obsessed American guy falls in love with an unplugged Japanese girl in Tokyo.
Los Angeles, CA (PRWEB) September 03, 2015
"Love in Tokyo" an independent romantic comedy film by Michael Solton was released on iTunes, Google Play, and Amazon and will be released on DVD early next year, by Maverick Entertainment. The film stars Jonathan Sherr, the lead from "My Darling is a Foreigner," Itsuka, an actress and singer/songwriter, and Jason London, lead from "Dazed and Confused."
"Love in Tokyo" is about Tom, an American thirty-something who has recently moved to Tokyo for what he thinks is just a temporary gig, struggles with feelings of isolation in a land where he doesn't speak the language and all of his relationships play out online. He's self-absorbed and pretends to be a cooler version of himself on the 'net.
Then he meets Saki, a free-spirited Japanese singer who teaches him about Tokyo and relating to others in a more personal way. She tries to help him live in the present and communicate with words, not text on a screen. Can he learn to relate to her, or is a make believe life on the web too tempting?
Solton said, "Technology has been developing at a rapid pace and the way we connect with people has also changed. I thought that making a film in Tokyo, which represents the epitome of technology, would be the perfect backdrop for the film. I also run an online dining guide for sushi, called Eatsushi.com, so I was able to combine my passion for sushi with my desire to film in Tokyo.
We are all connected with phones, laptops, and tablets. Staying connected can be very addicting and also very lonely. Many of us have thousands of online friends but don't know our neighbors.
"Love in Tokyo" is about how we are connecting more and more "online" and less and less in person. Humans have a basic need to connect with other humans but there is an emptiness and loneliness that can occur when there is not enough face-to- face connection. Many of our "online friends" are people we've never even met in person. Sometimes we can get comfortable behind our screens and don't venture out into real life."
To contact Michael Solton 949-237-2711 or Mike(at)LoveinTokyoFilm(dot)com or visit http://loveintokyofilm.com
https://www.facebook.com/SushiSaki