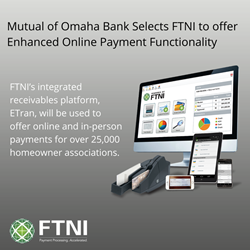 "FTNI's ability to scale and easily configure ETran to meet our specific processing needs across our national business made for an excellent fit." -- Matt Minchow, Mutual of Omaha Bank
Omaha, Neb. (PRWEB) September 02, 2015
Financial Transmission Network Inc. (FTNI), a provider of industry leading integrated receivables management solutions, today announced that Mutual of Omaha Bank has selected FTNI to provide new online payment portal payment capabilities to Mutual of Omaha Bank's professional property management and homeowner associations (HOA).
Mutual of Omaha Bank, a $7 billion bank with offices throughout the United States, already provided some online payment functionality for these clients, but was looking for enhanced features such as electronic bill presentment and payment (EBPP), convenience fees and configurable HOA branding that it processes through the bank's Community Association Banking (CAB) business line. The bank was also looking for flexibility in payment types and the ability to assist their clients with improved operational oversight.
"FTNI's ETran solution brings a strategic mix of benefits to our national processing, including a fully-compliant consolidated receivables platform and the ability to automate traditionally manual, time-consuming processes," said Matt Minchow, executive vice president of National Banking, Mutual of Omaha Bank. "FTNI's ability to scale and easily configure ETran to meet our specific processing needs across our national business made for an excellent fit."
In addition to being able to pay via ACH or credit card on the web, Mutual of Omaha Bank's clients will also have the ability to scan checks and remittance documents at the property management locations as well as credit card, ACH and cash payments.
FTNI's ETran solution is a cloud-based, integrated receivables processing hub. It delivers a real-time, enterprise-wide view of all check, ACH, credit, debit and cash transactions whether initiated in-person, through the web, mobile or ETran user interface for superior receivables management. ETran's modular design seamlessly manages any payment type from any payment channel within a single interface. No changes to current business processes or accounting software is required.
"ETran's modular design lends itself well to companies like Mutual of Omaha Bank who need a solution that can easily be adapted to meet the changing needs of partners and clients across various verticals, whether it be related to check scanning, online payments, ACH and credit card initiation or invoice presentment," says Chris Thompson, EVP and COO at FTNI. "Easily deployed and supported, ETran helps companies achieve true straight through processing from a single receivables platform, accelerating the ability to eliminate traditionally siloed receivables processing solutions."
FTNI at AFP 2015
FTNI will be onsite at the 2015 Association of Financial Professionals (AFP) Annual Conference, at the Colorado Convention Center, October. 18-21 in Denver, Colorado. Visit FTNI in booth 3019 for a demonstration of ETran, FTNI's award winning integrated receivables processing hub, to see how FTNI can help you streamline your receivables processes. To request a private onsite demo or arrange a meeting at the event, email simplifyAR(at)ftni(dot)com today.
------------------------------------
About Mutual of Omaha Bank
Mutual of Omaha Bank is a full-service bank, providing financial solutions to individuals and businesses across the United States. With nearly $7 billion in assets, Mutual of Omaha Bank is a subsidiary of Mutual of Omaha, a highly rated Fortune 500 insurance and financial services company founded in 1909. To learn more about Mutual of Omaha Bank, visit http://www.mutualofomahabank.com.
About FTNI
Financial Transmission Network, Inc. (FTNI) accelerates the way businesses accept, process, post and manage payments. Processing millions of transactions monthly, FTNI's integrated receivables hub, ETran, accepts any payment method, via any payment channel — on a single, secure, cloud-based platform. ETran's easy-to-deploy, modular design seamlessly integrates current business processes, bank and processor relationships, and back-office accounting software to deliver increased efficiencies and cost savings as a result of true straight through processing. Founded in 2007, FTNI serves more than 16,000 corporate users from leading organizations such as the American Red Cross, DirectBuy, Five Star Senior Living, Golden Living, Mutual of Omaha, Penn Mutual, Physicians Mutual Insurance, Proxibid, RealPage, Shamrock Foods, The McClatchy Company and many more. For more information, visit ftni.com.