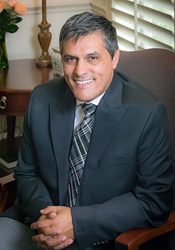 Allen, TX (PRWEB) September 01, 2015
Dr. Marco Cueva, a well-known periodontist, is now happy to accept new patients who want to receive All-on-4® dental implants in Allen, TX. This treatment option allows the doctor to restore patients' smiles with a permanent option, even when they may have limited bone density within the jaw. Deterioration of the jawbone often prevents doctors from providing patients with the fixed implants they desire. This procedure, however, allows doctors to provide accessible results for their patients, while maintaining a high success rate for many years.
The key to All-on-4® is the requirement for only four dental implants for the jaw. The procedure does not typically require bone grafting, making this an ideal treatment for those who do not wish to have many implants, or those who cannot sustain implants due to their lack of jaw bone density. The implants are utilized as the supporting base to hold a permanent prosthesis in place. This is a dream come true for those who utilize dentures, those who have become inconvenienced by the embarrassing side effects of traditional dental appliances, which may cause issues such as the clicking noises and slipping that can occur when patients eat or speak.
To place these dental implants in Allen, TX, Dr. Cueva ensures that each patient is comfortable and provides the best possible methods to ensure little to no pain. He then accurately places four implants, in surgically fit locations that have been precisely determined to carry optimal bone density, thus allowing the greatest ability to support the load of the prosthesis. A temporary set of teeth is attached to allow patients appropriate healing for their gums. Once the bone and implants become fully fused together, a process that usually takes between three to six months, the old temporary set of teeth is replaced with a new, permanent set.
Those who would like to learn more about the benefits of All-on-4®, and the dental implants procedure in Allen, TX, should schedule an appointment with Dr. Cueva. For more information or inquiries, please call his office or visit his website.
About the Doctor
Periodontal Excellence is a periodontal practice offering personalized dental care for patients in Allen, TX. Dr. Marco Cueva is a Board Certified Periodontist and has extensive education in periodontology and dental implantology. He attended the Federal University of Parana where he received his Doctor of Dental Surgery Degree, and completed three additional years of training at Camillo Castelo Branco University, before training at Baylor College of Dentistry. Dr. Cueva also earned his Masters of Science Degree in Oral Biology with a certification in Periodontics from Texas A&M University Health Science Center- Baylor College of Dentistry. Dr. Cueva offers a variety of services, specializing in dental implants, All-on-4™ and the minimally invasive Chao Pinhole® Surgical Technique for treating receding gums. To learn more about the services offered at Periodontal Excellence please visit the website at http://www.perioexcellence.com or call (972) 390-9944 to schedule an appointment.