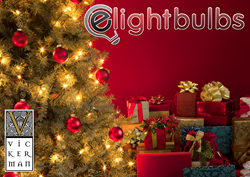 We would like to thank eLightBulbs for representing Vickerman with the utmost professionalism, providing accurate information and a great customer experience.
Maple Grove, MN (PRWEB) October 14, 2015
eLightBulbs is proud to offer their largest selection of Vickerman branded Christmas items ever this year. With over 800,000 items in stock, eLightBulbs is excited to be able to partner with Vickerman once again to provide the public with the highest quality Christmas lights and Christmas trees on the market today.
"Due to our longstanding relationship with the Vickerman Company, we wanted to invest heavily into promoting their product line this year," said Paul McLellan, eLightBulbs Vice President. "As a result, we have added every single item from their catalog and can boast around 15,000 Vickerman Christmas items for sale in 2015. Best of all, most of these items are in stock and ready to ship right now."
The Vickerman Company, headquartered in Norwood Young America, Minnesota, is the premier source for Christmas décor. With a huge selection that includes Pre-Lit and Unlit Christmas Trees, Christmas Lights, Christmas Ornaments and even giant Christmas trees, Vickerman prides itself on the variety and quality of its products. From whimsical to classic, customers are certain to find the perfect accent to their holiday décor with Vickerman products on eLightBulbs.com.
"To be successful, Vickerman provides quality products, but relies on our distributors to provide great service," said Randy Schuster, Vickerman CEO. "We would like to thank eLightBulbs for representing Vickerman with the utmost professionalism, providing accurate information and a great customer experience."