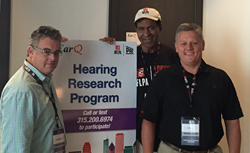 We're committed to continuing our efforts to analyze how hearing loss affects the player population... --Ed Keller, president of EarQ
Chicago, IL (PRWEB) September 02, 2015
Following significant player participation at the 2015 NFL Players Association's (NFLPA) Conference in March, EarQ and the Professional Athletes Foundation (PAF) brought their landmark hearing health research program to the Chicago chapter of the NFLPA.
On August 29 and 30, representatives of EarQ, with several representatives of Sivantos, Inc., provided participating NFLPA members with hearing health screenings and customized EarQ hearing solutions in an effort to continue their research on the correlation between hearing loss and former professional football players.
All testing data acquired will help EarQ and the NFLPA more accurately identify the connection, prevalence, and extent of hearing loss throughout the player population and help ensure larger steps can be taken to help enrich the lives of NFLPA members.
Future research program events will be held for former players in New Orleans and Las Vegas.
"We're committed to continuing our efforts to analyze how hearing loss affects the player population and utilizing our resources to educate the players and help them find life-changing hearing solutions," said Ed Keller, president of EarQ.
About EarQ:
A prestigious nationwide network of independent hearing healthcare providers, EarQ utilizes innovative business and marketing practices as well as national public awareness efforts to advocate for excellence in the industry and in patient care. Through its 1,400 hearing healthcare provider locations nationwide, EarQ helps provide greater access to quality hearing healthcare services and products.
http://www.earq.com
Like us on Facebook
Follow us on Twitter
About the NFL Players Association
The National Football League Players Association (NFLPA) is a non-profit, professional sports union that protects the best interests and welfare of all NFL players. It serves as the exclusive bargaining agent for all NFL players in collective bargaining. Established in 1956, the NFLPA has a long history of assuring proper recognition and representation of players' interests. The NFLPA is governed by a Board of Player Representatives, acting in accordance with the NFLPA Constitution and federal labor laws. The NFLPA's responsibilities include: Representing all players in matters concerning wages, hours and working conditions and protecting their rights as professional football players; ensuring that the terms of the Collective Bargaining Agreement are met; negotiating and monitoring retirement and insurance benefits; providing other member services and activities; providing assistance to charitable and community organizations; enhancing and defending the image of players and their profession, on and off the field.
For more information, visit http://www.NFLPlayers.com.
About Sivantos Group
The businesses of Siemens' former hearing aid unit have been combined into the Sivantos Group since the beginning of 2015. The origins of Sivantos go right back to 1878, when Werner von Siemens invented a telephone receiver which made it considerably easier for the hard of hearing to follow conversations. Today, Sivantos Group is one of the world's leading manufacturers of hearing instruments. With its 5,000 employees the Group recorded revenues of € 690 million and a reported EBIT (earnings before interest and taxes) of € 126 million in the 2014 business year. Sivantos' international sales organization supplies products to hearing aid specialists and sales organizations in more than 120 countries. Particular emphasis is placed on product development. The declared goal is to make Sivantos with its brands Siemens, Audio Service, Rexton, A&M and HearUSA the market leader in the years to come. The owners of Sivantos are the anchor investors EQT together with the Strüngmann family and Siemens as co-investors.
Further information can be found under http://www.sivantos.com.