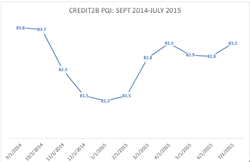 (PRWEB) September 02, 2015
Credit2B is the leading web-based community of trade credit grantors sharing a common platform to access better credit information about their trading partners. The firm's Payment Quality Index (or PQI), indicates how well trade suppliers are getting paid by their business customers. PQI is the probability that a trade creditor will collect its money within its terms of sale on a scale of 0-100 (100 being perfect) based on tens of millions of trade receivables experiences from Credit2B's contributing and diversified trade suppliers. The PQI Index is built from a sample of approximately 65,000 debtors and their approximately $15B in current receivables.
The payment quality index sat at 83.8 in September of last year, one of the highest marks since Credit2B began to measure PQI. From that point, the PQI dropped each month until January of 2015, where it hit a low point of 81.3 which is still a sign of good payment behavior from businesses. After the low levels from December through February, the PQI climbed again to 82.8 in March and has fluctuated between 82.2 and 83.3 through till July.
"We've seen a quantum improvement in credit payments since February of this year" said Bob Carbonell, Chief Credit Officer of Credit2B. "We also see continued stability in the willingness to take risk. On average, our clients' credit utilization levels (ratio of average total balance to average high credit over a 12 month cycle) remained consistently between 50% and 60% indicating consistent risk exposure through that period. Also noteworthy is that the overall moving average of total owing has gone up when comparing the second half of 2014 to the first half of 2015 which means more was being extended." Carbonell is an industry veteran who spent a significant part of his career as a leading analyst at D&B, prior to his career at Credit2B where he helped establish the firm's product as a market innovator.
About Credit2B:
Credit2B's goal is to empower accurate and timely business decisions by connecting the trade credit experiences of every supplier in the world. Using patent-pending technology, Credit2B's collaborative platform allows you to create connections with trusted peers and securely control the exchange of data and experiences on common customers in an anti-trust compliant network. This is combined with relevant public filing and third party risk data, providing everything you need to make a credit decision in one, convenient platform.