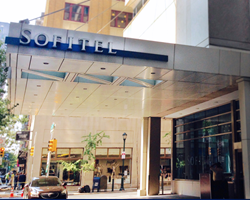 We want to make sure everyone who works as a banquet house-person or banquet server is protected from unlawful hotel policies and practices that cause them significant financial harm, says Marc Goldich of Sheller. P.C.
Chicago, Los Angeles, Miami, New York, Philadelphia, San Francisco, and Washington, D.C. (PRWEB) September 02, 2015
Sheller, P.C. and Donovan Axler, LLC filed a class and collective action in Pennsylvania federal court on behalf of current and former banquet staff employees of Sofitel hotels for allegedly failing to pay gratuities and overtime wages that were due to them under state and federal laws cited in the complaint.
 
The court documents allege that Sofitel hotels in Chicago, Los Angeles, Miami, New York, Philadelphia, San Francisco, and Washington, D.C.charge customers a set fee in addition to the total charge for banquet events leading customers to believe that these gratuity or service fees are tips for the servers. Sofitel allegedly pays its banquet staff only a portion of these fees, rather than remitting the entirety of such charges to its banquet staff, violating both the Philadelphia Gratuity Protection Bill (PGPB) and Pennsylvania's Minimum Wage Act (PMWA), noted in the complaint.
The plaintiff, Brenda Murray of Philadelphia, Pennsylvania, has dedicated over 12 years of her life to a job at Sofitel Philadelphia as a banquet house-person staff preparing the venue for various banquet events such as wedding receptions, parties and meetings, as described in court documents.
The complaint alleges that despite requests for information regarding the hotel's pay practices and transparency with regard to the distribution of gratuities from banquet events, the Sofitel Philadelphia allegedly would not post for the banquet staff any details of banquet event costs or otherwise notify the banquet staff the amount of the gratuity fees paid by the customer.
Court documents note that under the Fair Labor Standard Act (FLSA) and PMWA, if employees are paid a portion of mandatory gratuity or service fees and they work more than 40 hours in a week or 8 hours in a day, such payments need to be calculated as part of their regular rate for purposes of determining overtime pay.
The compliant alleges that Sofitel failed to include these gratuities as part of the hourly wage paid to Murray and the putative collective class members for purposes of calculating overtime, violating both U.S. Department of Labor (DOL) and U.S. Internal Revenue Service (IRS) regulations, as mentioned in court documents. 
The complaint further alleges that the Sofitel only paid its banquet staff, such as Ms. Murray, at half her regular rate for overtime as opposed to the time-and-a-half rate that is purportedly required by state and federal law.
 
Under the FLSA and the IRS regulations, cited in the complaint, automatic gratuities are considered part of wages and employers allegedly may be miscalculating their employees' overtime.    
The case is Brenda Murray v. Accor North America, Sofitel Philadelphia, La Liberte, Sofitel USA, Accor Business and Leisure North America, Accor Lodging North America (Case No. 2:15-cv-04907-JD).
About Sheller P.C.
Sheller, P.C. is a preeminent consumer protection, product liability, and qui tam whistleblower law firm. For over 35 years, the attorneys led by founding partner Stephen A. Sheller have aggressively yet compassionately represented victims across the country in lawsuits involving defective products, drugs and medical devices, medical malpractice, consumer fraud, unfair business practices, corporate wrongdoing and complex catastrophic personal injury litigation.
Marc Goldich, Esq.
Sheller P.C.
1528 Walnut St, 4th Fl
Philadelphia, PA 19102
P: 800-883-2299
PA: 215-790-7300
NJ: 609-941-2596
E: MGoldich(at)sheller(dot)com
About Donovan Axler, LLC
DONOVAN AXLER, LLC, located in Berwyn, Pennsylvania, is a law firm dedicated to providing first class litigation services to institutional and individual investors, consumers, and small businesses. The firm's nationwide practice focuses on class actions, litigation on behalf of employees and consumers, as well as cases against financial service providers, including banks, mortgage servicers, consumer debt collectors, consumer reporting agencies (credit bureaus) and credit card issuers, providing sophisticated, in-depth representation.
Noah Axler, Esq.
Donovan Axler, LLC
1055 Westlakes Drive, Suite 155
Berwyn, PA  19312
P: 610-647-6067
F: 610-647-7215
E: naxler(at)donovanaxler(dot)com