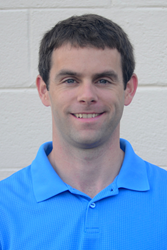 Our ever-expanding team gains a level of expertise and dedication with the addition of these strong candidates.
KNOXVILLE, Tenn. (PRWEB) September 02, 2015
Leon Williams Contractors, a commercial construction firm headquartered in Maryville, Tenn., hired Tim Prewitt and James Davis into two full-time positions as the company continues to grow.
"We are delighted to welcome Tim and James to our growing team," said Jimmy Hawkins, Leon Williams Contractors' senior partner. "These men join us from a background rooted in the construction and contracting industry. Our ever-expanding team gains a level of expertise and dedication with the addition of these strong candidates."
Prewitt joined Leon Williams Contractors as a project manager earlier this year, supplementing the team with six years of contracting and construction management experience. A graduate of Eastern Kentucky University with a bachelor's degree in construction management, Prewitt has devoted his career to the contracting industry, working with both large and small general contracting companies. His devotion and experience become manifest in the roles he handles such as onsite project supervision, estimating and project management.
Davis, formerly an onsite laborer with Leon Williams Contractors since 2013, exhibited the drive and skills to garner a promotion to foreman this June. As foreman, Davis organizes and manages building projects in all respects. Davis is accountable for laborer instruction and assignment, overall management and quality control.
Leon Williams General Contractors became one of East Tennessee's largest construction firms in the 1990s. In 2002, Leon Williams Contractors, LLC was founded and has continued to grow and expand to meet the commercial construction demand in the Knoxville and Maryville area.
About Leon Williams Contractors, LLC
An experienced commercial design-build firm, Leon Williams Contractors simplifies the building process by effectively managing costs, adhering to deadlines and reducing complications to provide a seamless building experience. With more than 40 years as a value-engineering expert, Leon Williams Contractors offers a complete range of services including pre-construction consultation, site assessment, design-build expertise and construction management in the greater Knoxville, Tenn. area. For more information, visit http://www.lwcontractorstn.com or call 865-982-1734.
###
For additional information, contact:
Heather Ripley
Ripley PR
hripley (at) ripleypr (dot) com
865-977-1973