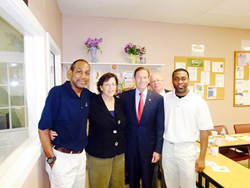 We aren't going to imprison our way out of this public health crisis.
Windham, Connecticut (PRWEB) September 03, 2015
CCAR was honored to host a roundtable discussion led by U.S. Senator Richard Blumenthal at our Windham Recovery Community Center on August 27th to discuss how to address and combat heroin addiction. Invited panelists included CCAR staff and advocates, officials, and treatment providers. Nearly half of the participants introduced themselves as people in recovery from addiction.
In his first roundtable in Torrington, Senator Blumenthal called for anger and outrage about the numbers of people, the mothers, fathers, daughters and sons, being lost to this opioid epidemic that Connecticut and other American states are enduring. In our state 284 people lost their lives in 2013, and for 2014 that number climbed to 347. This is truly a public health crisis affecting everyone of us, and while these deaths are alarming, even more people are affected every day by the rising numbers of those enslaved by addiction to heroin and other opioids.
During the CCAR roundtable, the conversation turned to what fuels addiction: overprescribing by physicians and lack of training, education for patients about medications they are prescribed and the need for community understanding about various issues related to alcohol and drug use and addiction. The focus was how to save lives from being lost to the toll addiction takes, not only for the person afflicted but also their loved ones and neighbors.
This community conversation focused on the prevalence of recovery and the need to make recovery support more available to those who struggle with opioid addiction, whichever road that led them there. Speakers highlighted the need to teach the public that hope is available and that millions of people make it into recovery and are able to restore every aspect of their lives. Two CCAR volunteers talked about their personal efforts and what enabled them to be live drug free these past years. They called for more access to recovery housing and community based support like CCAR Centers, as well as professional help. Service providers agreed and spoke about cut-backs in funding for drug courts, and other effective treatment programs used by individuals and families.
Senator Blumenthal listened carefully and said that, even as a former prosecutor, he recognizes we aren't going to imprison our way out of this public health crisis. He pledged his support to increase funding for treatment and community based recovery support programs and thanked participants for the work they are doing in their own recoveries and in helping others on the road to recovery.
The following is a news clip from NBC CT of the round table: http://www.nbcconnecticut.com/video/#!/on-air/as-seen-on/Drug-Addiction-Discussion-Addresses-Keys-to-Recovery/323131211