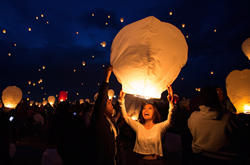 There is an undeniable sense of wonder in seeing the night sky lit up with thousands of floating lanterns
Salt Lake City, UT (PRWEB) September 02, 2015
The Lantern Fest is proud to announce that a portion of proceeds from their 2015 Fall Tour will benefit Angels of America's Fallen (AOAF), a nonprofit organization whose mission centers on helping the children of America's fallen military and first responders to develop into strong and successful adults.
"We work closely with fire, police and first responder departments in every city we visit," said The Lantern Fest event director Spencer Humiston. "We are thrilled to be giving back to an organization that does so much for the families of these brave individuals."
Angels of America's Fallen (http://www.aoafallen.org) honors all of our fallen military, police and first responders and recognizes their family's continued sacrifice. They provide funds and/or supplies for positive mentoring and developmental activities. AOAF is organized around providing opportunities and support based on the unique needs and interests of each child.
"We could not be more excited about the partnership between Angels of America's Fallen and The Lantern Fest," said Joe Lewis, founder and CEO of Angels of America's Fallen. "There is an undeniable sense of wonder in seeing the night sky lit up with thousands of floating lanterns. This experience is only enhanced in knowing that each participant is helping AOAF stand by the children of our fallen as part of their registration fee."
Right now, more than 100 children are on the AOAF waiting list, awaiting funds in order to pursue a specific passion or developmental outlet. This partnership will help AOAF move the kids off their waiting list and into music, sports or some other passion which involves a coach or mentor.
The Lantern Festival itself can act as a tribute to those who have passed away. Many participants travel great distances to remember a loved one, celebrate a milestone or turn over a new leaf as they watch thousands of Chinese lanterns float into the sky. The Lantern Fest provides entertainment for adults and children alike with activities such as: face painting, live music, a stage show and s'mores until the spectacular lantern launch at sunset.