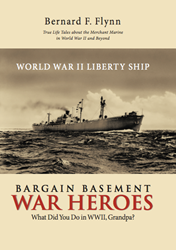 NEW YORK CITY (PRWEB) September 08, 2015
Those who served in the U.S. Merchant Marine have struggled for years to obtain veteran status and even today many are still fighting for recognition. But when you compare casualty rate percentages to other services in World War II, the Merchant Marine holds the highest.
The Merchant Marine played an important role and Bernard F. Flynn wanted his grandchildren and anyone who would listen to know. Flynn combined his many stories of being a mariner in World War II among other controversial topics including Kennedy's assassination, Communism and a second chance at love, in his new book "Bargain Basement War Heroes."
Flynn's book emphasizes the importance of passing along stories from generation to generation. After sharing in this grandpa's life experiences, you'll feel inspired to learn your own grandparent's stories.
"Bargain Basement War Heroes: What Did You Do in WWII, Grandpa?"
By Bernard F. Flynn
ISBN: 978-1496948618
Available in softcover, hardcover, e-book
Available on Amazon, Barnes & Noble and AuthorHouse
About the author
Bernard F. Flynn graduated as a licensed officer for the Merchant Marine in 1944. For two years he went active duty in the U.S. Navy. Flynn had eight children with his first wife. This was his first and only book. Flynn passed before his book was published, but to honor his stories and work, grandson Brian Cronin is prepared to speak on Flynn's behalf.