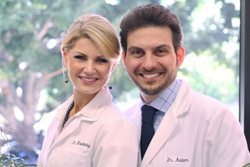 " As more convenient diagnostic tests are being developed, we hope that it will encourage people to schedule surveillance tests and take a more proactive role in their oral health in general," said Dr. Krivitsky
Los Angeles, Ca (PRWEB) September 03, 2015
According to an Oncology Nurse Advisor article published on August 17, there is a promising and convenient test that may help patients with oropharyngeal cancer (oral cancer) to be successfully diagnosed and treated for relapses of the disease. Oropharyngeal cancer cases in the United States are often caused by HPV infections, which have a high rate of success in treatment and elimination of the disease; however, roughly 25 percent of patients that beat the disease experience a relapse. Using a post-treatment oral rinse that targets the HPV16 DNA biomarker, researchers have been able to detect which patients are likely to experience a recurrence of the oral cancer following initial therapy.
Dr. Alexandre-Amir Aalam and Dr. Alina Krivitisky are skilled periodontists focused on providing exceptional dental and periodontal care, which includes conducting state-of-the-art oral cancer examinations.
"Diagnosing and treating oropharyngeal cancer in its earliest stages is crucial for reaching the best possible outcome," commented Dr. Krivitsky. "If we can then accurately diagnose potential recurrence of the oral cancer with a simple oral rinse, it would give our patients an even stronger chance at beating the disease completely."
Oropharyngeal cancer may cause a lump to form in the back of the throat, ear pain, difficulty opening the mouth or moving the tongue, or even a change in voice. Whether caused by the human papillomavirus (HPV), smoking, or other risk factors, oropharyngeal cancer can be treated with surgery, chemotherapy, radiation therapy, or a combination of these treatments.
"When an oropharyngeal cancer patient experiences a relapse, the disease may not always have signs or symptoms until it has significantly progressed, which can put the patient at risk of the disease spreading to different parts of the body," added Dr. Aalam. "The HPV DNA detection study gives us hope that such a life-threatening disease can be caught and treated as early as possible."
According to the study, the earliest HPV16 DNA recurrence that was detected in a patient was around three months after treatment, with an average detection occurring around seven months post-treatment. However, the HPV16 DNA test is still under development, and researchers will continue to perform follow-up exams on the patients included in the study to ensure its accuracy and allow for successful intervention in the case of recurrence.
"It is important for everyone to be screened for oral cancer on a yearly basis," continued Dr. Krivitsky. "Unfortunately, many people don't consider a comprehensive oral cancer screening necessary. As more convenient diagnostic tests are being developed, we hope that it will encourage people to schedule surveillance tests and take a more proactive role in their oral health in general."
Dr. Alexandre-Amir Aalam and Dr. Alina Krivitsky are Board certified Brentwood periodontists specializing in dental implants and gum and tissue diseases. They opened the CENTER, a periodontal office focused on providing patients with excellent and skilled care at affordable prices, with the goal of restoring oral health and aesthetic appearance. They are alumni of the prestigious Ostrow School of Dentistry at USC and are still heavily involved in academia and giving back to future periodontists at USC. They are also the only two board-certified periodontists in the Brentwood area of Los Angeles.
If you or someone you know is interested in scheduling an appointment at the CENTER for Advanced Periodontal & Implant Therapy, we encourage you to contact 310-826-8242 today.