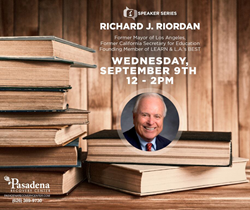 We are all patiently awaiting to see what this incredible man has to say and the lessons he will share.
Pasadena, CA (PRWEB) September 03, 2015
Pasadena Recovery Center proudly welcomes Former Mayor of Los Angeles, Richard Riordan, to their groundbreaking speaker series on Wednesday, September 9 at 12 P.M.. Riordan is the founder of the Riordan Foundation and serves on the board of directors of the Alliance for College-Ready Public Schools, a charter management organization that operates 13 middle and high schools in Los Angeles. He was also a founding board member of the LEARN school reform effort and of LA's BEST (Better Educated Students for Tomorrow) after-school program.
In 2014, Richard Riordan released his memoir, "The Mayor: How I Turned Around Los Angeles after Riots, an Earthquake, and the OJ Simpson Murder Trial." The book takes an honest look into his successes and difficulties faced during his time as mayor, the ideas and values that drove his work, and the life events that shaped him. Riordan believes "Any person can be a leader, they only need courage. The courage to make decisions and the courage to admit their mistakes."
"We are so very honored to have Richard Riordan as our featured guest for this month's speaker series." says actress and Pasadena Recovery Center's Treatment and Recovery Advocate, Mackenzie Phillips. "We are all patiently awaiting to see what this incredible man has to say and the lessons he will share."
Pasadena Recovery Center Speaker Series hosts amazing authors, entrepreneurs, celebrities, and experts to talk about their personal experiences with addiction and the way it has affected both themselves and the people around them.
Richard Riordan was elected Mayor of Los Angeles in 1993 and was reelected by an overwhelming margin four years later, with more than 60 percent of the voters supporting his efforts to improve public safety, create quality jobs, and reform Los Angeles' public schools. His belief that government fails when communities fail to take their own initiative, Riordan empowered residents to take responsibility for the well-being of their neighborhoods and called for the creation of a citywide system of neighborhood councils that give community organizations a greater voice in city government.
His appointment as California Secretary for Education in 2003, marked Governor Schwarzenegger's first cabinet appointment. A strong believer in the need for meaningful education reform, Riordan created legislation that demanded accountability and ensured that every California student benefited from a quality education. Riordan's appointment as Secretary for Education was a natural extension of his civic activism and public service.
Pasadena Recovery Center: Located in the charming historic district of Pasadena, the Pasadena Recovery Center was co-founded in 2000 by renowned psychiatrist Dr. Lee Bloom, his daughter Alison Triessl, and his son Michael Bloom. The 98-bed drug and alcohol treatment center is nationally known for its 12-step based comprehensive treatment program and highly skilled, licensed and certified staff. Pasadena Recovery Center is dedicated to providing compassionate, comprehensive care to those suffering from chemical dependency and is proud to offer lifesaving and life-changing treatment at an affordable cost. The Pasadena Recovery Center's goal is to reintroduce sober individuals into society with the skills necessary to lead meaningful, productive lives.