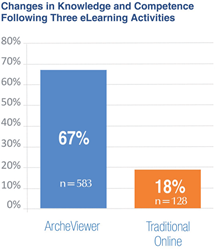 Learners engaging in ArcheViewer-powered education demonstrated nearly 4X's greater changes in knowledge and competence!
Charlottesville, VA (PRWEB) September 02, 2015
ArcheMedX announced today, in collaboration with PIM and AcademicCME, the results of an initial comparative analyses that measured changes in knowledge and competence from a recently launched educational series designed for healthcare professionals managing patients with dyslipidemia.
The data was evaluated utilizing a single-sample analysis of pre-test and first post-test performance of 711 learners and revealed that clinician learners who participated in the ArcheViewer-powered education demonstrated changes in knowledge and competence that were nearly four-times greater than that of the control group who participated in a traditional online series utilizing the same primary video content. More detailed analyses and data are available within a complimentary white paper (download pdf).
"While we have seen profound impact with each of the educational series we have developed in Partnership with ArcheMedX, this is the first time we have been able to execute a rigorous head-to-head trial of eLearning models. The results of this trial demonstrate that we can have a much greater impact on learning and competence than has been historically produced. There is a better way to deliver online education and these findings should help the CE Community structure more effective educational activities." commented Dr. Timothy Hayes, President of AcademicCME.
The ArcheViewer, an award-winning eLearning delivery and analysis platform, was utilized by AcademicCME and PIM to construct a more interactive online learning experience supporting a series of educational videos. Faculty and educational planners created Educator Notes and Interactive Polls that were scheduled to appear at relevant moments within the content, many of which were linked to critical resources (i.e., articles, guidelines, tools, etc.) curated by Faculty and made available to learners to review and download all within the platform. Learners were able to take digital notes synchronized to the content, set a personalized series of enduring reminders in accordance with spaced learning theory, and search a resource library populated by the educational planners. By driving the learners to engage in the content and take a variety of critical actions, the ArcheViewer helps to highlight and support content related to the predefined learning objectives.
As Joel Selzer, CEO of ArcheMedX, explains, "The ArcheMedX Learning Actions model and the ArcheViewer provide the CE community the educational framework and eLearning platform they need to transform how clinicians learn online. We know that changing the way the healthcare community teaches and learns is no small task, and we are delighted to work closely with AcademicCME and PIM to explore how a more innovative approach to online learning can dramatically improve knowledge and competence among healthcare professionals."
This educational series was supported by an independent educational grant from Sanofi US and Regeneron Pharmaceuticals Alliance, which allowed PIM and AcademicCME to independently develop and distribute a three-part educational curriculum entitled Incorporating Advancements in Monoclonal Antibody Therapeutics into Patient Management Strategies for Dyslipidemia and provided the opportunity to execute this research project.
To learn more about this research and/or this educational series, please contact Dr. Timothy Hayes at thayes(at)academicCME(dot)com. For additional information on ArcheMedX and its innovative approach to online education, including the ArcheViewer eLearning and analysis platform, please contact Joel Selzer, CEO of ArcheMedX, at joel(at)archemedx(dot)com.
--
About AcademicCME
AcademicCME is a physician-run, healthcare solutions medical education company designed to impact practice behavior and thus patient outcomes. AcademicCME leadership draws on the more than 45 years of clinical experience of its staff physicians in clinical practice and education, which provides a unique understanding of the dynamics between physician behavior, patient care and practice based educational needs. Visit http://www.academiccme.com for more information.
About ArcheMedX
ArcheMedX is a healthcare informatics and e-learning technology company that is transforming online learning in medicine through an agile, data-driven approach to e-learning that improves competency and performance among healthcare professionals. By engineering an informatics‐powered architecture that organizes and connects the natural learning actions of clinicians in one system, ArcheMedX simplifies lifelong learning and streamlines the process of educational planning, assessment and support. Visit http://www.archemedx.com for more information.
About PIM
The Postgraduate Institute for Medicine (PIM) is nationally accredited to certify education and issue continuing education credit to a multidisciplinary audience of learners. PIM is recognized for the highest level of excellence by being awarded Accreditation with Commendation by the ACCME and Accredited with Distinction by the ANCC. PIM specializes in joint providership, outcomes measurement, and grant solicitation/funding support; PIM also offers an online eLearning platform with traffic guarantees, http://www.cmeuniversity.com/.