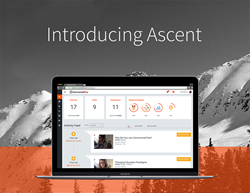 What CommercialTribe is bringing to the market is not only improving the tools we already use to scale sales performance, but is also adding new ways for us to spark growth and create stronger, more cohesive teams.
Denver, CO (PRWEB) September 02, 2015
CommercialTribe today announced the launch of CommercialTribe Ascent, the flagship version of the leading video-based sales practice platform. Building on CommercialTribe's proven, enterprise-class technology, Ascent is designed to shift the efficiency, productivity, and efficacy of sales reps as they move through their careers.
"CommercialTribe Ascent represents major advancements in technology, education, and sales enablement.  While we'll always look to drive efficiencies into the sales process, in the future the more meaningful returns will come from making reps better," said Paul Ironside, CEO and Founder of CommercialTribe.
The latest iteration of CommercialTribe brings sharp, clean design, redesigned tools and workflows, and new video technology to the market, ensuring that sales teams across the world can share best practices and develop new capabilities - anytime and anywhere. Ascent brings bi-directional video practice into sales teams as a cornerstone of their sales training efforts, where reps begin their climb toward mastery of the right skills, messages, and behaviors that they need to be effective in the market.
More information about Ascent can be found at http://ascent.commercialtribe.com.
Ascent Key Features
CommercialTribe Ascent builds on the existing video-based sales training platform, enriching the features that best help reps, managers, and sales enablement train and develop. Ascent improves the CommercialTribe sales training workflows with a complete rebuild of the application, expanding functionality by making it easier for reps and managers to record, share, and practice. Among hundreds of updates, Ascent offers:
1. Comprehensive user experience and design updates, with 33% fewer clicks as users navigate the system
2. Offline record capabilities with truly scalable video that supports teams across the globe – online or offline
3. A native iPad and iPhone mobile app, with a full Salesforce.com integration
4. Major reporting redesign, with detailed analytics and team performance tracking tools that connect rep practice to efficacy
5. Robust administration features, notifications, and curriculum-building toolsets designed to make it easier to create and deploy curriculums
Comments on the News
"Pearson's purpose is to empower people to progress in their lives through learning. The work our sales teams have done in CommercialTribe has dramatically improved the efficacy of our teams and rapidly advanced their abilities and skillsets," shared Charles Ward, Sr. Vice President Higher Education Sales, Pearson North America. "What CommercialTribe is bringing to the market is not only improving the tools we already use to scale sales performance, but is also adding new ways for us to spark growth and create stronger, more cohesive teams. Our sales teams are not only building their business and technical skillsets, but are also building confidence in their capabilities."
"When we first brought CommercialTribe into our team over a year ago, we saw clear improvements to our reps' ability to take the right messages into the market," said Steve DeMarco, Vice President, Worldwide Sales, Xactly. "We saw a boost to how many leads our team converted, with reps structuring better deals and executing better sales cycles. Now, with the upgrade to CommercialTribe Ascent, we're excited to see our team embrace practice more frequently, whether in the office or around the world."
About CommercialTribe
Founded in 2013, CommercialTribe is solving the hardest problem in sales through video-based practice for sales reps. CommercialTribe combines enterprise-grade video practice with robust workflows and tools that match with existing training methods, helping lift rep efficacy, reduce time to productivity, and reinforce the training investment. Find out more at https://www.commercialtribe.com.
How to Access CommercialTribe Ascent
Existing customers will be automatically migrated to Ascent, with training sessions and other awareness activities coordinated with the appropriate Account Manager.
To see a demo of the Ascent platform, please visit http://ascent.commercialtribe.com.