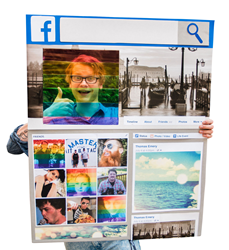 In a year where so many amazing things happened for equality, we wanted to bring what matters back into focus.
North Mankato, MN (PRWEB) September 03, 2015
It's no secret that many of the most popular Halloween costume themes of any given year reflect the stories that made headlines in the months prior. If that trend holds true, 2015 costume parties may be populated with fashions more meaningful than the Twerking Miley Cyrus's and bent iPhones of years past. Specifically, gay pride-themed costumes are expected to make a colorful splash this October, following the recent Supreme Court ruling to legalize same-sex marriage in the United States.
HalloweenCostumes.com has costume ideas, proprietary tools, and tips aplenty for revelers looking to display their support of this history-making ruling. The company has created a "DIY Celebrate Pride Facebook Costume," modeled after Facebook's Celebrate Pride initiative, the rainbow filter photo tool which was used by more than 26 million people in its launch weekend alone. The simple but effective costume piece was assembled using affordable materials such as cardboard, poster board, and cellophane wrap, and is one size fits all.
For those looking for ready-to-wear options, the company not only has the biggest selection of exclusive costumes in the industry, they've also has created a gay-friendly couples costume selector tool which features easy to navigate drop-down menus with hundreds of same sex ideas to choose from. Additionally, they offer Pride-themed accessories including wigs, tutus, and exclusive boas.
At a time when several costume companies have recently received negative attention for selling insensitive Caitlyn Jenner outfits, HalloweenCostumes.com is proud to call attention to their efforts to provide members and advocates of the LGBT community with supportive and considerate Halloween wear options. "We pride ourselves on a great customer experience and also one that provides the opportunity for everyone to celebrate Halloween. In a year where so many amazing things happened for equality in general, we wanted to bring what matters back into focus," says Troy Eaves, VP of Marketing at HalloweenCostumes.com. "Everyone should be able to have fun on Halloween. Every year we see new and creative ideas, and yes some are offensive, but this is one subject we feel should be celebrated, not mocked."
Based in North Mankato, Minnesota, HalloweenCostumes.com is a world leading retailer of costumes and accessories. With more sizes, styles, and exclusively licensed costume options than anywhere else online, they can't guarantee your choice will be easy, but they can guarantee an exciting shopping experience that includes unequaled customer support, and tools to ensure you find a costume that's your perfect fit!