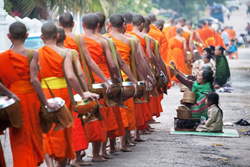 These trips are very exclusive with only eight couples flying on two jets and enjoying private touring and transfers. This is how Aman junkies and Remote Lands clients travel
Bangkok, Thailand (PRWEB) September 03, 2015
Remote Lands, the world's leading ultra-luxe Asia travel designer, in partnership with Aman Resorts, revealed this week that following the recent launch of their extraordinary private jet journey across Asia, the trip is now 50% sold out, and just eight of the 16 seats remain. The 14-day journey takes travelers throughout Vietnam, Cambodia, Laos, The Philippines and Japan, staying in luxurious Aman properties and flying on two Gulfstream private jets – one of which is now fully booked.
From March 6-20, 2016, guests will have the opportunity to helicopter over Angkor Wat, one of the great man-made wonders of the world, and land at a lost temple in the jungle for a gourmet picnic lunch; enjoy a fabulous champagne cocktail party and dinner on a spectacular cliff top overlooking the waves crashing into Vinh Hy Bay; participate in a traditional Lao Baci Ceremony performed by a Buddhist monk to celebrate a momentous occasion; walk on the pristine white sand beaches of Amanpulo's private island and scuba dive in the crystal clear blue waters; experience both Old Japan and New Japan and get an insider's view of the Asian contemporary art scene in some of Tokyo's top galleries. Additionally, guests can opt for an exclusive helicopter trip to a remote Lao tribal village that virtually no foreigners have set foot anywhere near.
All touring during the trip is private and each couple has their own private car, driver and guide on each touring day. Guests will come together at night for highly convivial cocktail parties and special dinners.
Leading the trip is Catherine Heald, Remote Lands' co-founder and CEO. "Our first Aman private jet trip – which visits eight Amans in China, Bhutan, India and Sri Lanka this October – sold out in a matter of weeks," she said. "We therefore had no hesitation in putting together a second trip to some equally amazing destinations. These trips are very exclusive with only eight couples flying on two jets and enjoying private touring and transfers (no buses!). This is how Aman junkies and Remote Lands clients travel, and Aman is the perfect partner for us."
Heald sees small group private jet trips as a growing trend within the luxury travel industry. "It's clear why group jet trips are becoming more popular," she said. "They're much more affordable than chartering an entire jet just for just one family or party, and they offer wealthy travelers an incredible opportunity for socializing and networking with other interesting, accomplished, high- net-worth adventurers while still having total privacy for their touring."
Aman/Remote Lands Private Jet Journey across Southeast Asia and Japan takes place March 6-20, 2016, departing from Bangkok and ending in Tokyo, costing $58,888 per person. To find out more about this and other future private jet journeys, visit http://www.remotelands.com or email amanprivatejet@remotelands.com.
About Remote Lands, Inc.
Remote Lands, Inc. creates highly personalized and unique, ultra-luxury holidays throughout Asia. Based in New York and Bangkok, the company specializes in extraordinary experiences that are difficult to arrange and require privileged access to important people and exclusive events, drawing upon Remote Lands' relationships with remarkable people around Asia. Unparalleled service, creative itineraries and extreme attention to detail are what set Remote Lands apart.
###
Media Contacts:
Katie Barr Cornish / Emma Silverman
11*6 PR
Katie@elevensixpr.com / emma@elevensixpr.com
646-325-5894 / 647-780-0159