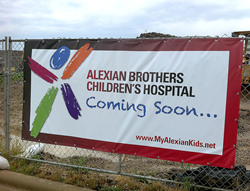 Made to withstand the elements, these banners are also fine art Gicleé quality banners.
Chicago, IL (PRWEB) September 03, 2015
Sunrise Hitek's new durable vinyl banners are made for outdoor use. Made to withstand the elements, these banners are also fine art Gicleé quality banners. Banner printing up to 126" wide by any length. Hemming, grommets, rope, street poles.
High-Definition solvent or UV printing combines fine art Gicleé quality with outdoor durability
All ink and material are fade resistant and waterproof
60" wide by any length (126" wide banner printing coming soon)
Precision grommet placement with balanced weight distribution minimizes damage
Swiss-precision CNC cutting of wind slits prolongs banner life in outdoor weather
Marine-grade double-stitching is standard on all hemmed banners
G7 Qualified Master Printer ensures superb color accuracy and consistency
Installation service available
In addition to the standard banner printing, Sunrise offers a variety of finishing options, all of which are completed in-house, keeping turnaround times short and sweet. Stitch hemmed edges are a smart option for an extra clean look and the double-stitching ensures the strongest hemming available. Wind slits are another add-on that adds to durability in harsh weather conditions. Wind slits are cut on super precise digital cutters with unique TearStopper™ pattern that reduces wind stress and virtually eliminates tearing. Installation services and advice are also available upon request.
About Sunrise Hitek Group, LLC.
Sunrise Hitek https://www.sunrisehitek.com/ is an Inc. 5000 company established in 1988 and employs the most advanced equipment and technology, such as G7-certified HP Indigo and UV flatbed presses, laser engraving, and digital die-cutting, to create best-in-class color printing, short-run packaging, P.O.P. retail displays, and signage products. A privately-owned enterprise, the company is based in Chicago and sells products worldwide.