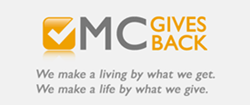 "We believe in a corporate responsibility of giving back to our communities and impacting our world in a positive way. Teaming up with the Super Service Challenge gave us a unique way to join with like-minded organizations to give back this year."
Davis, CA (PRWEB) September 02, 2015
Maintenance Connection's staff just completed a handful of US-based projects that support the company's mission to prioritize giving back to communities and non-profit organizations. Though in past years the company's philanthropic efforts have taken place in countries around the world, this year the organization chose to focus on various opportunities to give back in "in their own backyard" and serve local organizations with unmet needs. Maintenance Connection built upon its already well-established mission of giving back in 2011, when it kicked off the first of its annual "MC Gives Back" trips. These efforts support the company's mission to make a difference in the lives of others in need, by investing both time and resources.
This year, Maintenance Connection teamed up with a movement called The Super Service Challenge. The Super Service Challenge, founded in 2011, is a nationwide movement that strives to transform business through service. The movement is driven by the idea that companies grow stronger when employees join together to serve causes they care about. The Challenge promotes service in the workplace by encouraging companies to donate their time, share stories of service, and win funding for nonprofits in their communities. As part of the challenge, Maintenance Connection completed a handful of service projects that took place from June through August in Sacramento, CA and Denver, CO. These two locations were primarily selected because they are located centrally to two of the company's hubs, which helped to make participation by the entire staff more feasible.
The two Sacramento-based projects included the moving of an entire elementary school to their new campus across town, and helping a local food bank prepare for a back to school event for approximately 1,000 Sacramento youth. The three Denver-based projects included completing a community improvement project in the West Colfax community, assisting with a Habitat for Humanity housing project, and performing landscape maintenance at the Tennyson Community Children's Center. "We believe in a corporate responsibility of giving back to our communities and impacting our world in a positive way. Teaming up with the Super Service Challenge gave us a unique way to join with like-minded organizations to give back this year," said Brad Squires, MC Vice President.
In addition to being a part of the Super Service Challenge, California-based Maintenance Connection brings the giving back concept home through an initiative they call "1-1-1″, which includes giving back in the three ways: first, they give away 1% of their profits to causes and non-profit organizations through monetary donations; second, they give away an additional 1% of profits in free or discounted software to organizations that need, but cannot afford, CMMS software.; and third, Maintenance Connection employees give 1% of their on-the-clock hours each month to local non-profits.
To see more details about the Denver and Sacramento-based efforts please visit the Super Service Challenge website. The website allows you to watch a series of short videos from each of the projects and to vote for your favorites. More information about the company's Giving Back efforts can be found by visiting http://www.mcgivesback.com.
About Maintenance Connection
Maintenance Connection is a rapidly-growing company that is leading the way in maintenance management, using pure browser technology. Maintenance Connection delivers a full-featured web-based maintenance management (or CMMS) solution, including Work Order Tracking, Preventive Maintenance (PM) Software, Asset Management, Inventory Tracking, Procedure Library, Labor Scheduling, and Service Requests, all of which is available through the Internet using a web browser or through the use of a company's own local network. Maintenance Connection offers a unique and intuitive user interface built on a robust database infrastructure, all at a highly competitive price point. For more information about the company and its product offerings, visit http://www.MaintenanceConnection.com.