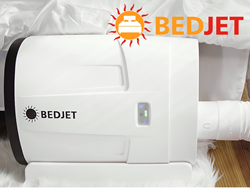 Newport, RI (PRWEB) September 03, 2015
BedJet released a new version of its award winning personal climate control system just for beds, the BedJet v2, for pre-order on Kickstarter. Today the BedJet v2 pre-order campaign blazed past the $1 million dollar mark in only 28 days, placing it in the top 0.1% most successful campaigns ever on crowdfunding giant Kickstarter.
Simple to use and beautifully designed, the award winning BedJet is the world's first ultra-rapid cooling, heating and climate control system made just for beds. Using patented JetConvect air technology, the BedJet is the only device which cools users down in 10 seconds or warms a bed to the feeling of a hot sauna in just 180 seconds. It is also the only product of its kind which does not require electricity, tubes, wires or mattress pads on the bed that change the comfort of the mattress. The device is controlled via tablets and smartphones using BedJet's free Bluetooth connected App.
BedJet debuted on Shark Tank this year to one of the more controversial segments of the season. Spurned by the millionaires of Shark Tank for investment, the company determined to move forward with production on its own and began shipping the BedJet v1 to consumers in February 2015.
The BedJet v1 quickly rocketed to become the No. 1 customer rated product for staying cool in bed on all of Amazon, the No. 1 customer rated powered cooling and heating device for a bed and the No. 1 customer rated product of any kind in the entire mattress category on all of Amazon. The device has also found widespread therapeutic use in the menopausal community for those suffering from evening hot flashes and night sweats
The new BedJet v2 now on Kickstarter has been upgraded with biorhythm temperature technology to improve users sleep. Said BedJet President Mark Aramli, "Sleep quality is as important to health and well-being as exercise and nutrition. Failure to achieve regular uninterrupted sleep has been medically linked to heart disease, high blood pressure, stroke, diabetes, loss of libido, depression and impaired cognitive function."
BedJet v2 uses hour-by-hour climate control adjustments to hack the body's natural pre-programmed circadian biorhythms to help users get to sleep faster, stay asleep longer and wake up more refreshed. BedJet v2 also obsoletes noisy alarm clocks by activating the sleeper's natural biorhythm wake triggers using temperature, waking users up gently and incredibly refreshed.
The new BedJet v2 biorhythm sleep technology is based off groundbreaking sleep temperature medical research sponsored by the National Institute of Health and Dutch Institute of Neuroscience, as well as the company's collaboration with sleep doctors.
Said Aramli, "Our BedJet v1 is now in over 2000 bedrooms and customer feedback has been phenomenal. The Kickstarter for BedJet v2 surpassed all of our expectations and we are delighted our user community continues to embrace the benefits of BedJet technology to improve their sleep and bedtime comfort."
Aramli was previously an engineer on the NASA spacesuit program responsible for some of the cooling and climate comfort systems of the suit. The BedJet v2 pre-order campaign is still active on Kickstarter through September 12th and can be found here.
ABOUT BEDJET LLC
BEDJET is a technology development company that is re-imagining the bedroom and sleep experience. Based in Rhode Island, the BedJet Company applies advanced technology, material science and computational fluid dynamic design methods previously reserved for aerospace, medical device and automotive industries into the art and science of delightful consumer bedroom technology.
BEDJET invented the product category of ultra-fast on-demand climate control for your bed and was also the first company to release cooling and heating products for the bed using Bluetooth connected smart device Apps. The BedJet product has been recently picked up by retail giants Mattress Firm, Bed Bath and Beyond, Brookstone and Jordan's Furniture, part of the Berkshire Hathaway furniture group.