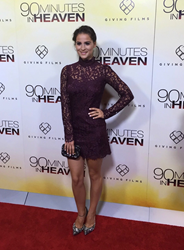 Gianna Simone stated "No matter where you come from or where you are now, I believe everyone has a dream inside them that can bring about great change."
Winter Park, FL and Los Angeles,CA (PRWEB) September 02, 2015
September 2, 2015 – The digital entertainment studio REBL HQ, located on the Full Sail University campus in Winter Park, Florida, is proud to announce that actress Gianna Simone will be playing Ms. Glenda in the feature length film, 90 Minutes in Heaven. The film starring Hayden Christensen (Star Wars Episode II—Attack Of The Clones and Star Wars Episode III—Revenge Of The Sith) and Kate Bosworth (Superman Returns and The Horse Whisperer) is set to hit theaters this month (September 2015), following the star-studded world premiere at the historic Fox Theater in Atlanta, Georgia.
Actress Gianna Simone appears in the film adaptation of the 2004 best seller written by Don Piper with Cecil Murphey. Both the book and film document the author's near-death experience in 1989. 90 Minutes in Heaven remained on the New York Times bestseller list for more than five years and has sold over seven million copies. Sharing insight into her career, Gianna Simone stated "No matter where you come from or where you are now, I believe everyone has a dream inside them that can bring about great change."
REBL HQ, a Full Sail University and Maker Studios collaboration, has been producing original content since it's unveiling in early 2015 including the launch of Gianna Simone's YouTube channel (http://www.youtube.com/giannasimone) featuring the original series "Love, Gianna." In addition to previous film and TV roles on projects including Star Trek Into Darkness and Law & Order, Gianna Simone was cast in the role of Elizabeth Healy in the upcoming film, God's Not Dead 2, featuring Melissa Joan Hart and Jesse Metcalf, and Garry Marshall's upcoming 2016 release titled, Mother's Day, appearing as Val alongside Jennifer Aniston, Julia Roberts, Kate Hudson and Jason Sudekis.
About REBL HQ and Full Sail University:
Located in a brand-new facility that houses state-of-the-art video soundstages, REBL HQ creates content across genres such as comedy, gaming, beauty, travel, and more; provides Full Sail University students with real-world opportunities to participate on professional productions, as well as study development, production and distribution for online short-form video; and serves as an innovation hub for the evolving world of online video delivery systems, production techniques and storytelling.
Full Sail University is an award-winning educational leader for those pursuing careers in the entertainment and media industry. Founded in 1979, Full Sail has been recognized as one of the 2014 "Top 25 Graduate Schools to Study Game Design" by The Princeton Review, one of the "Top 25 Music Schools" by The Hollywood Reporter, one of the Best Music Programs by Rolling Stone Magazine, and one of the Best Film Programs by UNleashed Magazine. Full Sail was named the 2014 "School/College of the Year" by the Florida Association of Postsecondary Schools and Colleges, received the "21st Century Best Practices in Distance Learning Award" from the United States Distance Learning Association, and was recognized as one of the Top 100 Social Media Colleges by Studentadvisor.com.
Full Sail University is a Graduate and Undergraduate degree-granting institution offering on-campus and online degree programs in areas related to Art & Design, Business, Film & Television, Games, Media & Communications, Music & Recording, and Web & Technology. Full Sail graduate credits include work on OSCAR®, Emmy®, GRAMMY®, ADDY®, MTV Video Music Award, and Spike VGX Video Game Award nominated and winning projects.
http://www.twitter.com/fullsail
http://www.facebook.com/fullsailuniversity