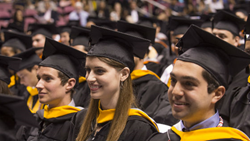 At a time when families are considering the overall cost of a college education and the value it provides to graduates, this ranking demonstrates that a Stevens education is a very strategic investment.
Hoboken, N.J. (PRWEB) September 02, 2015
PayScale's 2015-2016 College Salary Report Reveals Value of a Stevens Education
At mid-career, the average salary of Stevens graduates who receive their bachelor's degree is a hefty $120,000, ranking Stevens Institute of Technology 10th among colleges and universities nationwide and second in New Jersey, according to PayScale's 2015-2016 College Salary Report.
Trailing only Princeton University in New Jersey colleges and tied for 10th with three other universities, Stevens jumped two spots above its 12th place ranking in 2014/2015. PayScale ranked more than 1,000 schools based on the median salary of graduates who are full-time employees with at least 10 years of experience in their field who hold only a bachelor's degree.
Stevens also topped a number of other lists based on the PayScale data. Stevens—the first school of mechanical engineering in the nation—is listed at number five among engineering schools. The typical mid-career salary of Stevens students who receive their Master's Degree is $125,000, placing 8th in the nation.
Based on PayScale's annual College Education ROI rankings, released in May 2015, Stevens is also an institution of higher education that is well worth the investment. With graduates grossing $841,000 return, or 8.1 percent annually, on the cost of their education 20 years in the workforce, Stevens helps students earn back their tuition and then some, ranking 3rd in the nation for ROI.
"This Payscale.com ranking further affirms the stellar outcomes of Stevens graduates across a wide variety of occupations and in diverse fields," said Stevens President Nariman Farvardin. "At a time when families are considering the overall cost of a college education and the value it provides to graduates, this ranking demonstrates that a Stevens education is a very strategic investment."
Stevens boasts high-quality and highly regarded academic programs in engineering, the sciences, business, humanities and the arts which prepare students to solve critical problems facing society through technological innovation.
Situated in Hoboken, N.J., just minutes from Manhattan, the university offers unsurpassed opportunities for students to gain real-world work experience through internships and cooperative education offerings with its vast network of partner employers, including some of the world's most renowned corporations.
Stevens graduates are talented and broadly educated innovators who have built countless technology companies, introduced new products to the market and held leadership positions in academia, government and industry.
Learn more about the Stevens difference at http://www.stevens.edu/sit/roi.
About Stevens Institute of Technology
Stevens Institute of Technology, The Innovation University®, is a premier, private research university situated in Hoboken, N.J. overlooking the Manhattan skyline. Founded in 1870, technological innovation has been the hallmark and legacy of Stevens' education and research programs for 145 years. Within the university's three schools and one college, more than 6,800 undergraduate and graduate students collaborate with more than 380 faculty members in an interdisciplinary, student-centric, entrepreneurial environment to advance the frontiers of science and leverage technology to confront global challenges. Stevens is home to three national research centers of excellence, as well as joint research programs focused on critical industries such as healthcare, energy, finance, defense, maritime security, STEM education and coastal sustainability. Stevens is in the midst of a 10-year strategic plan,The Future. Ours to Create., designed to further extend the Stevens legacy to create a forward-looking and far-reaching institution with global impact.
National attention to the outstanding quality of a Stevens education continues to grow. Stevens is consistently ranked among the nation's elite for return on investment for students, career services programs and mid-career salaries of alumni. Learn more about the university's Rankings and Recognition.